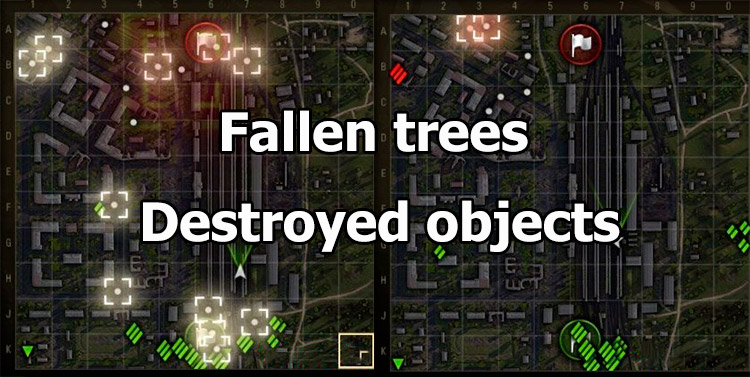 Mod "Fallen trees and destroyed objects" for World of Tanks 1.23.0.0
Description
It's no secret that many players in World of Tanks love to enjoy the destructibility of objects in battle, and especially when entering a position, they cut down trees, break fences and crush destructible buildings. Considering this, it would be strange if the creators of the forbidden modifications would not have been inspired and created the Felled Trees and Destroyed Objects mod for World of Tanks 1.23.0.0.
The essence of the modification consists in fixing signals from destroyed objects on the map and displaying fallen trees and destroyed objects in the form of points on the mini-map. It does not matter, from carelessness or just relaxation in battle, but almost every player of the opposing team will in one way or another transmit information about his location to players using such a modification in battle. Obviously, such information is incredibly useful and the player who possesses it is able to use it very effectively with the proper skill level. This forbidden mod still does not play for you like some kind of auto-sight, but it gives you a tangible advantage. Using this cheat, the player is able to more effectively choose positions in battle or change tactics even before the enemy tank is directly lit.
Screenshots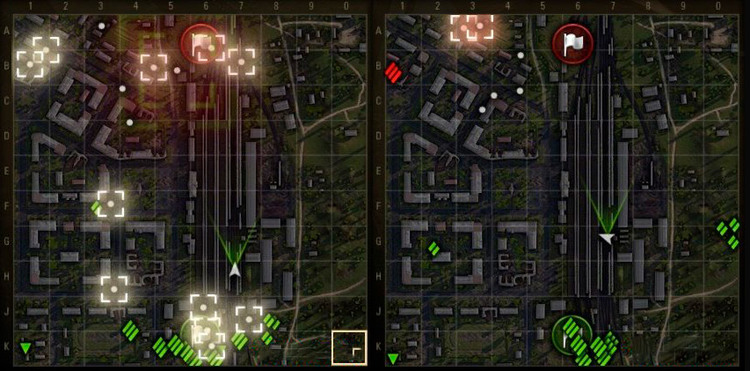 Mod settings
World of Tanks/res_mods/1.23.0.0/scripts/client/gui/mods/mod_destructionsBeholder.xml
Mod officially banned by Wargaming.
Installation
Copy the scripts folder to the World of Tanks/res_mods/1.23.0.0/ folder