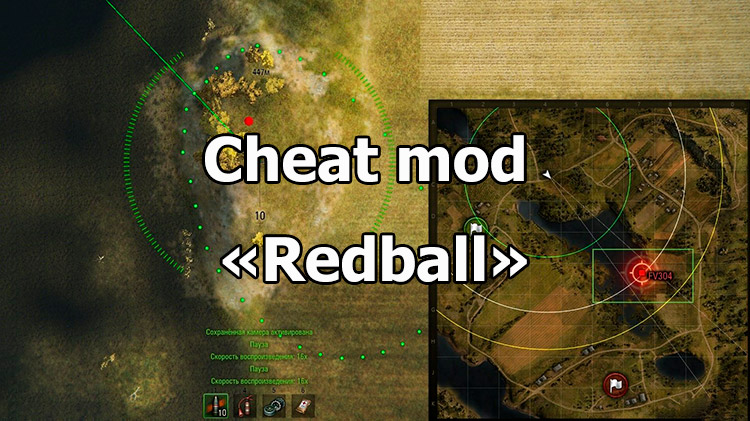 Cheat mod "Redball" for World of Tanks 1.23.0.0
Description
The variety of prohibited modifications for World of Tanks amazes at times no less than the variety of permitted ones. There are so many of them that in almost any area of ​​the game, mods have already been invented that increase the comfort of the game and provide a really tangible advantage over the enemy. However, the mod for hunting artillery is something original and really funny!
Cheat mod for artillery "RedBall" for World of Tanks 1.23.0.0 - one of the few really effective and useful forbidden modifications for artillerymen, which is useful for hunting enemy SPGs. Its essence is incredibly simple - it tracks tracers from artillery shots and leaves red balls in places from which shots of the enemy SPG were fired, even if it has not lit up yet in battle. And in this case, the player just needs to go into artillery mode and, converging on a red ball, shoot back. And given that the overwhelming majority of gunners are in no hurry to change their position in battle, the shot will most likely be successful.
Unlike modifications that increase the comfort of the game using forbidden methods, this mod directly tells the player where to shoot, so the advantage gained in battle can hardly be overestimated.
Screenshots
Mod settings
World of Tanks/configs/RedBalls/mod_redballs.xml
Если захотите удалить всплывающее сообщение, то удалите файл:
World of Tanks/res_mods/1.23.0.0/scripts/client/gui/mods/mod_redball.pyc
Mod officially banned by Wargaming.
Installation
Copy the res_mods folder to the World of Tanks folder.