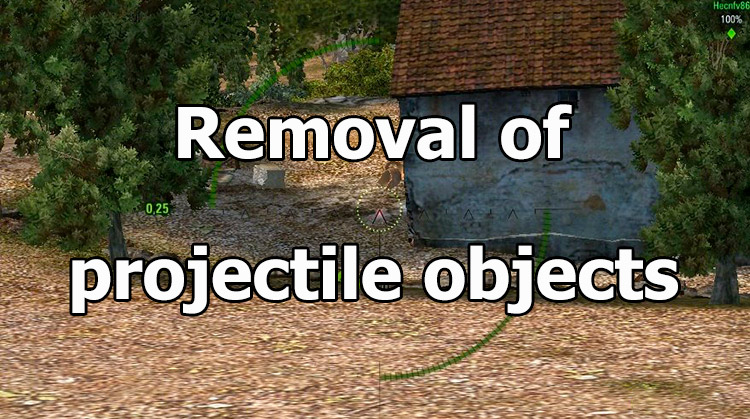 Removal of projectile objects for World of tanks 1.22.0.2
Description
Some of the modifications prohibited for use for the World of Tanks game client can be classified as "clearing the map". The most famous mod in this area is the sensational "TundraSky" at the time, but there are other, no less effective modifications.
For example, the cheat mod "Removal of projectile objects" for World of Tanks 1.22.0.2. Indeed, in fact, on the maps in our game there are not only bushes and trees that do not interfere with the flight of the projectile, but also other objects that can be shot through. The projectiles fly through these objects without any interference, but they interfere with the aiming and the player's view, and, accordingly, interfere with targeting vulnerable areas on the enemy's vehicles, thereby significantly affecting the gameplay.
The use of this modification has no side effect on the game process, and objects being shot are removed from the map only by pressing the NumPad 5 hotkey (by default), so at first glance the client interface may seem clean. However, this modification is among the prohibited, and therefore its use may lead to a temporary or permanent blocking of your account.
Screenshots
Mod settings
If you want to change the default hotkey for activating the mod (NumPad 5), then you need to open the configuration file and select your desired key. Also, this file has additional options for customization.
World of Tanks/res_mods/1.22.0.2/scripts/client/gui/mods/mod_garbageSuppressor.xml
Mod officially banned by Wargaming.
Installation
Copy the res_mods folder to the World of Tanks folder.