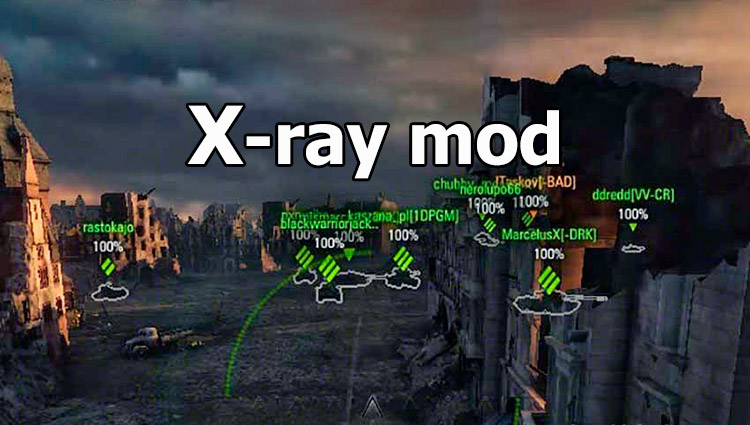 X-Ray mod for World of Tanks 1.23.0.0
Description
All multiplayer shooter players know that using cheats that display the location of the enemy significantly increases the chances of winning. What can we say about the use of such modifications in World of Tanks, in which the illumination of the contours of enemy tanks always plays a significant role.
Modification "X-ray" for World of Tanks 1.23.0.0, included in the list of prohibited mods, is not a "wallhack" cheat, since it does not allow players to see absolutely all opponents. This cheat displays the contours only for enemy tanks that are in the light and displayed on the minimap. The outline of the tank appears in gray only if the player himself aims his gun in the sniper mode at a tank that has already appeared in the light. However, even such an advantage can change the course of the battle, because the player has the opportunity to react to the enemy's actions even before he appears from behind cover. And of course, choosing a flank for an offensive with this modification is much more convenient - by the silhouettes of the tanks, you can determine in which direction their towers are turned and where the most vulnerable point in the armor is.
That is why this modification is classified as prohibited and all players using it should be aware of their responsibility for such behavior.
Screenshots
Configuration file
World of Tanks/res_mods/1.23.0.0/scripts/client/mods/ZJ_Mods/xml/ZJ_ContourLook.xml
Mod officially banned by Wargaming.
Installation
Folders mods and res_mods copy to the game folder World of Tanks.