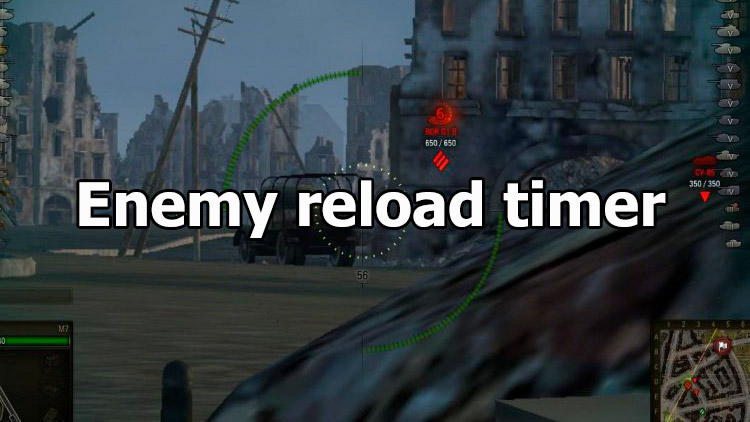 Enemy reload timer for World of Tanks 1.23.0.0
Description
At the moment, World of Tanks has a fairly extensive list of prohibited modifications that provide players with a tangible advantage in battle with opponents who play fair. However, not many mods were as popular and often used at the time as the enemy reload timer for WOT. For a long time, this modification was absolutely legal and was included in almost all modpacks. Even popular bloggers included it in their modpacks and used it themselves in battles and on streams.
It is one of those modifications, invisible at first glance, but very useful in the right hands. After all, by paying attention to this indicator, the player has the opportunity to determine what weapon the enemy shooting at him is using, not to mention the fact that this is an incredibly convenient landmark. It is much more convenient to see the enemy's reload timer when going on it than to remember the reloading of all tanks and calculate it only roughly. The cheater mod "Enemy reload timer for World of Tanks 1.23.0.0" displays information above each lit enemy tank, which displays the reload status of its gun. Moreover, it becomes possible to track the recharge of not only opponents, but also allies. And this is really very convenient, although it is forbidden in World of Tanks and the use of such a modification can lead to the blocking of your account.
Screenshots
Configuration file
World of Tanks/res_mods/1.23.0.0/scripts/client/gui/mods/ZJ_Mods/xml/ZJ_MRL.xml
Mod officially banned by Wargaming.
Installation
Copy the scripts folder to the World of Tanks/res_mods/1.23.0.0/folder.
If the recharge timer digits are displayed incorrectly (in squares), then you need to install the "Latha" font in the system.