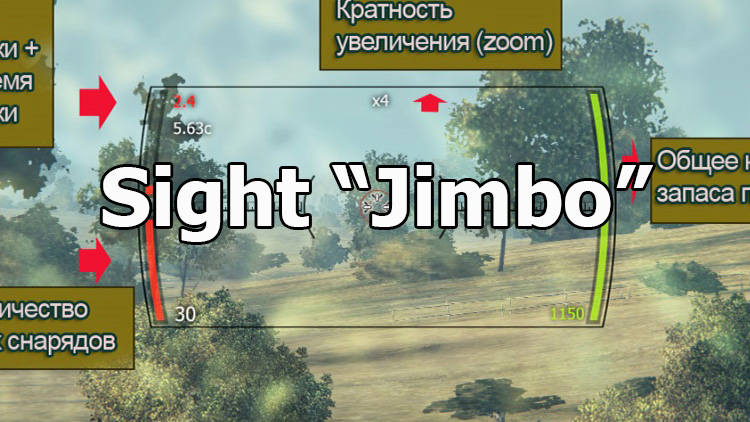 Sight "Jimbo" for World of Tanks 1.22.0.2
Description
The "Jimbo" sight for World of Tanks 1.22.0.2 is distinguished by its simplicity and convenience, as well as by the availability of basic information, both in the sniper shooting mode and in the arcade sight mode.
Sniper scope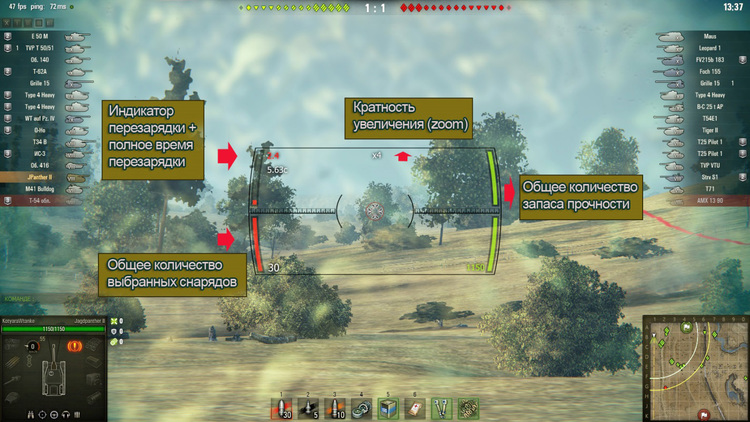 Recharge indicator + full recharge time - this indicator shows how much time is left before the gun is loaded and how much the gun reload takes on average. In this example, our gun can be charged in 5.4 seconds, and before full charge, 2.4 seconds are left after the shot. If you find it difficult to track the numbers, you can easily understand how much is left before charging by the red indicator as it is filled.
The total number of selected shells - shows how much you have in stock of this type of ammunition. The illustration shows armor piercing, we have 30 of them in total (see the icon below), the same is shown in the lower left corner of the sight. In addition, the red indicator (in the lower half of the sight) shows visually how much ammunition data remains from the initial quantity (as the shells are consumed, the indicator goes down).
The magnification of magnification (approximation or "zoom") - shows how much the multiplicity of the sight has changed, in other words, how close the objects are at the moment. Total game settings allow you to display data multiplicity - 2,4,8,18 and 32. The figure shows the multiplicity equal to 4th.
The total amount of safety margin - this indicator is highlighted in green and divided into two sections - upper and lower. The bottom right corner shows the strength value in numbers. As damage and damage is received, this indicator decreases and the digital strength value changes in the same way as shown in the damage panel (modules).
Arcade sight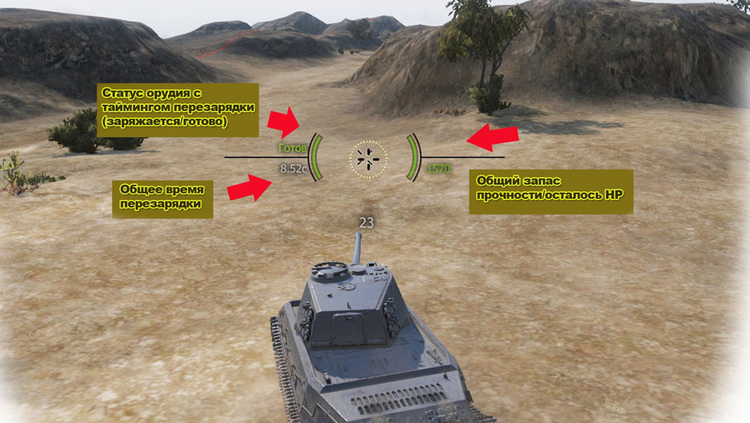 In the "Jimbo" arcade sight, the data is reduced to the necessary minimum - so that it is informative enough, but the player is not overloaded with unnecessary information.
Gun status with reloading timing - indicates whether the gun is currently charged or in the process of reloading. For greater clarity, the corresponding indicator shows the state of reloading (as the indicator is full, the instrument is fully charged).
Total reload time - shows how much on average this weapon is charged. As the weapon is charged, the corresponding value is shown in numbers.
General margin of safety - this indicator shows how much your tank has / left. As you take damage, this indicator goes down. For greater clarity in the lower right corner shows its value in numbers.
The "Jimbo" sight is one of the most simple and informative. At the same time, it will not distract you from the main goal, but thanks to a well-chosen color palette, appropriate forms and indicators, it will make the aiming and firing process more comfortable.
Installation
The mods folder from the archive is placed in the World of Tanks folder.