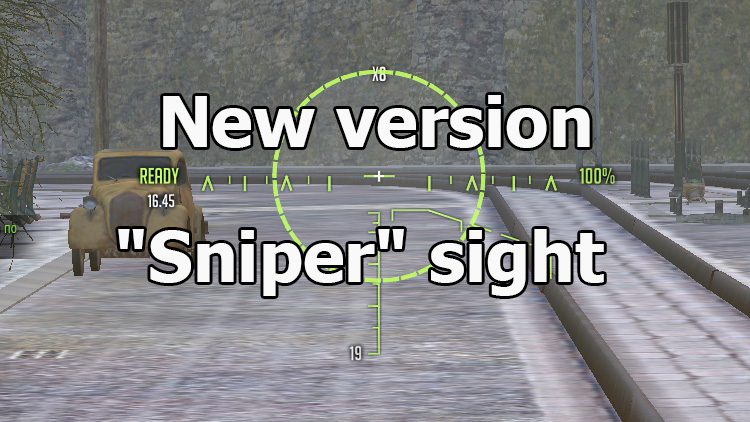 New version "Sniper" sight for World of Tanks 1.22.0.2
Description
For previous versions of the World of Tanks game client, the Sniper's sight used to be popular, but for a long time its old version was not optimized for use in modern versions of the client. After that, the author of the new version of the sight and took up its processing. The new version of "Sniper" sight for World of Tanks 1.22.0.2, as before, is made in light green shades that many people have so loved in their time. Also, this sight has all the chances to gain no less popularity among the players than its predecessor, because it retained all its positive qualities and functionality.
By its interface, this sight is similar to real sniper sights, having a convenient crosshair, well readable on any background, and marks on the horizontal and vertical scale will allow you to more conveniently calculate the necessary advance. In addition, the sight constantly displays the distance to the enemy machine you are pointing at, the number of remaining shells, as well as the reload timer for your armored vehicle, which is replaced by the inscription "Ready" when fully loaded with tools, using well-readable and nice looking fonts.
Thanks to its simplicity and excellent readability, the new version of the Sniper sight cannot fail to please! It takes all the best from the standard sight and is not spoiled by excess tinsel.
Screenshots
Installation
Install fonts;
The mods folder is copied to the World of Tanks game folder.