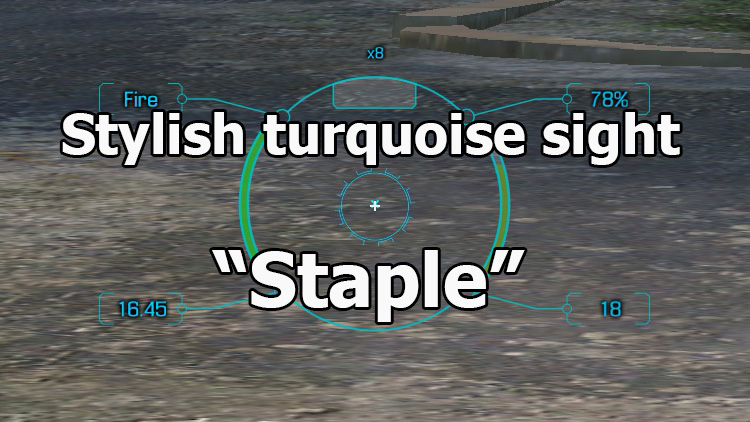 Stylish turquoise sight "Staple" for World of Tanks 1.22.0.2
Description
At this time, your attention is really a very unique and unusual stylish turquoise sight "Staple", optimized for functioning in the client of the game World of Tanks 1.22.0.2.
The technical side of this modification was the well-known model model Andre_V, while the rather unusual design of the sight was developed by the equally famous creator of the Octagon series of modifications under the name 2rokk. The main distinctive feature of this sight is the stylish turquoise color of the interface, which distinguishes it from other modifications of the sights and of course strikingly distinguishes it from the standard sight, built into the client of the game World of Tanks from the beginning. This color scheme allows you to perfectly navigate in battle and accurately aim.
Of the distinctive features of this sight, besides the color range, an interesting bullet-shaped armor penetration indicator should also be noted, at which tip will display the conditional thickness of armor in the place your gun was aimed at. And of course, all the necessary information is present in the sights - the number of the remaining hit points of the tank, the indicator of a charged gun and other trifles. In the archive with the modification, you will not only have access to the arcade, but also sniper and artillery sights.
Screenshots
Installation
Install fonts;
The mods folder is copied to the World of Tanks game folder.