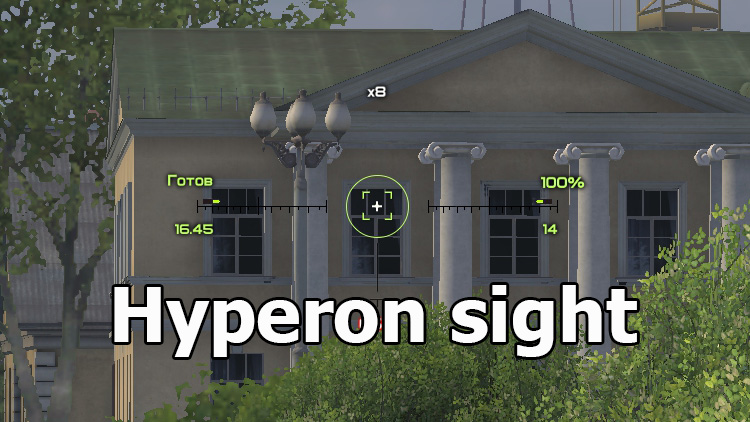 Hyperon sight for World of Tanks 1.22.0.2
Description
It is quite difficult to find among the list of modern scopes something new, unknown and at the same time high-quality. However, one of these mods can be considered the "Hyperon" sight for World of Tanks 1.22.0.2 from the author Billroy. This is a worthy version of a minimalist sight, not overloaded with bulky visual elements or fonts and at the same time charged with all the necessary functionality to the eyeballs. With it, you get both an indicator of the total recharge time, and the remaining time to complete charging, and the multiplicity of the sight in the sniper mode. Moreover, the distance indicator to the enemy tank is quite conveniently located. In fact, you will not need anything more for the most productive and comfortable game!
The color scheme of the sight was also selected with the mind, and therefore it does not hurt the eyes, does not tire during the game and with all its unobtrusiveness is perfectly visible on any map and landscape, when aiming at any tank with any camouflage.
In addition, complete with the "Hyperon" sight you get a stylish "OverCross" information circle with pleasant minimalistic animation, thanks to which the sight and the information circle are pleasing to the eye and behave perfectly even when playing on weak computers.
The latest version of the Hyperon sight was also optimized and adapted to work in the client of the game World of Tanks 1.22.0.2. However, before installing the mod, do not forget to install the font in the system, which comes in the archive with it.
Screenshots
Installation
Install font;
Copy the mods folder to the World of Tanks folder.