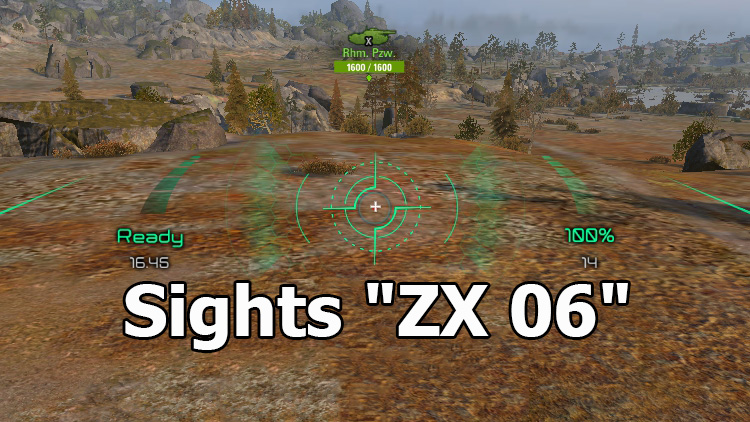 Spectacular sights "ZX 06" for World of Tanks
Description
The modification presented to your attention at the moment The spectacular sights "ZX 06" for World of Tanks 1.22.0.2 is another successful and stylish continuation of the series of well-known ZX sights. The main difference of this sight is that it is a full-fledged extended version, and not minimalistic and simplified. Thanks to this, the design of the sight looks very impressive and rich. Everything is made in black and turquoise colors, classic for such sights, thanks to which the text and indicators are perfectly readable in any setting and when hovering on any surface.
In sniper mode, the scope is darkened on the sides of the screen to concentrate the attention of the shooting player on targeting the enemy, although at least some part of the audience may not like this. However, the creators of mods follow the comments and if this causes a large amount of negativity from the tank community, this dimming will be removed in future versions of the modification. The indicators of the strength of the tank and the reload status of the guns are also spaced on the sides of the screen so as not to distract from the circle of information and not overlap the view in the center of the screen.
Installation of this modification is carried out in the usual way - you need to unpack the downloaded archive, then copy the mods folder to the World of Tanks game client folder, confirming the replacement of files if necessary.
Screenshots
Installation
Install fonts;
Copy the mods folder to the World of Tanks folder.