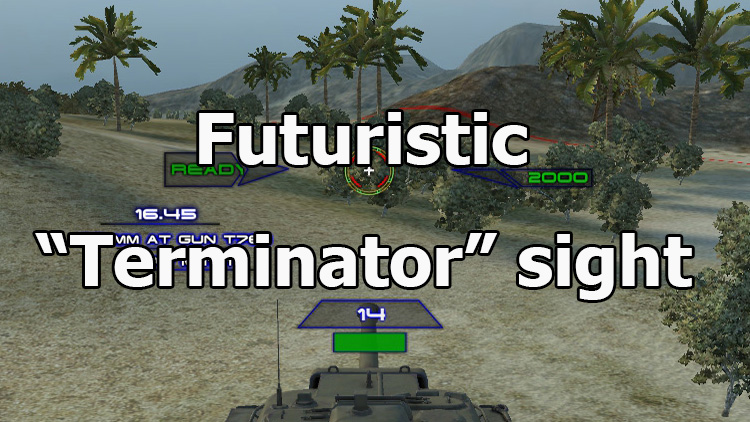 Futuristic "Terminator" sight for WOT 1.22.0.2
Description
This time to your attention is presented a very interesting futuristic "Terminator" sight for WOT 1.22.0.2. This futuristic sight was found on the Internet and adapted for use in the current version of the game client. This sight appeared in the game even in those days when all the creators of mods players knew by name and each of them had its own unique style. At that time there had not yet been such high-quality and modern sights with a mass of indicators, high-quality animations and perfectly selected shades for the elements.
This scope is likely to appeal to players who have been playing this game for a long time, and maybe since its release, because it will bring to the interface in battle that unique repetition of the first versions of the game. This ancient sight was created in due time by the author of the Archimedus mods, and already other authors of modern times decided to adapt it for the current patch, for which they completely assembled it from scratch, guided by its original functionality and appearance, adding some additional useful functions, thereby improving it . The scope turned out far from minimalism and of course not everyone will like it, but he will surely find his audience.
Screenshots
Installation
Install fonts;
Copy the mods folder to the World of Tanks folder.