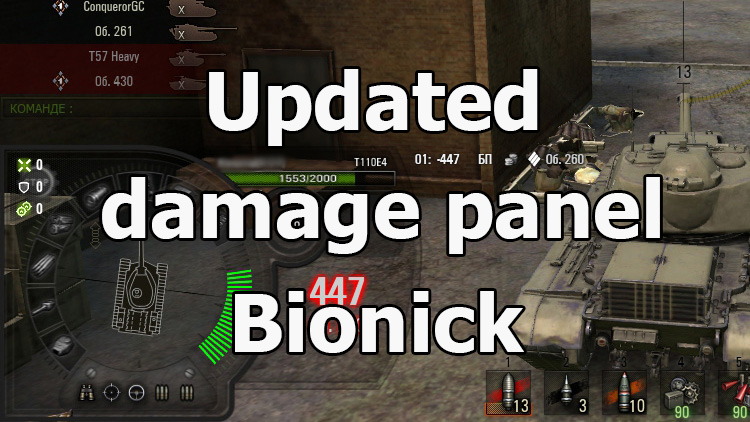 Updated damage panel "Bionick" for WOT 1.22.0.2
Description
The updated "Bionick" damage panel for WOT 1.22.0.2 presented to your attention is a modification from Bionick, modified by another model Andre_V for the current version of the client of the game World of Tanks. This damage panel was completely modified in all senses - the speedometer scale was moved to the right side, and the background of the panel was made translucent, as many players asked in the comments to the old version of the modification.
The icons of the crew members are also all located along the lower edge of the panel, under the machine module diagram, while the module icons themselves are stylishly located on a circle of the scale, which is very convenient and well read. In addition, this panel is fully compatible with the damage log and looks great with it. And what else is needed for a comfortable game? If you have long been tired of the standard combat interface of the game World of Tanks - be sure to try this damage panel!
To install this panel, you will need to do a little more than usual - to begin with, install a font in your operating system using Windows itself. After that, unpack the archive and copy the mods folder from it to the folder of your client of the game World of Tanks. If necessary, answer affirmatively to requests for replacing game files.
Screenshots
Installation
Install fonts;
Copy the mods folder to the World of Tanks folder.