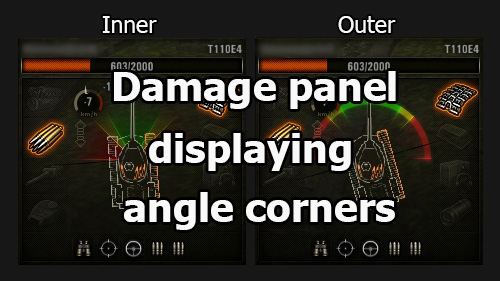 Damage panel displaying angle corners for World of Tanks 1.21.0.0
Description
Introduced to your attention this time, the damage panel with display of pickup angles for World of Tanks 1.21.0.0 is essentially an improved and more stylish and colorful version of the standard and familiar to all damage panel of the World of Tanks client.
This modification can be attributed to the category of more decorative changes by the client, since it does not carry any special functionality and is intended more likely to decorate a strict game interface. Its main difference is that the indicator of the angle of horizontal guidance of your armored vehicle is divided into colored stripes. The main meaning that can be found in this mode is that it allows you to quickly understand what side you are in relation to the enemy that you are attacking. A green bar means that you are most likely substituted to it by frontal projection if you are playing on a self-propelled unit. The yellow sector means that you are a diamond and your side armor is already vulnerable.
The procedure for installing this modification is slightly different from the usual one, since you first need to install the font into the operating system using standard Windows tools, then unpack the downloaded archive with the modification and copy the mods folder to your World of Tanks game client folder, confirming the replacement when the system is requested.
Screenshots
Installation
Install fonts;
Copy the mods folder to the World of Tanks folder.