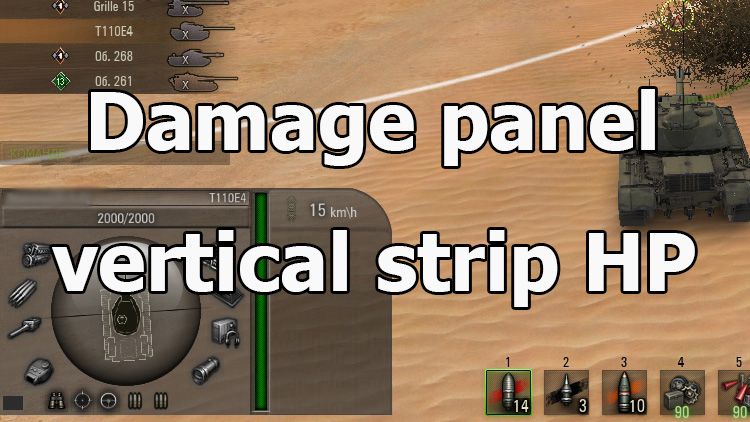 Damage panel with a vertical strip of HP for World of Tanks 1.22.0.2
Description
The modification of the damage panel with a vertical HP strip for World of Tanks 1.22.0.2 presented to your attention this time is quite an interesting, albeit with a simple change in the combat interface in the game World of Tanks. Its main difference is the vertical bar, visualizing the number of remaining points of strength of the tank and thus resembling any RPG game. This is very striking in its originality, because we are all accustomed to the horizontal strength bar of the tank in all, even the modified damage panels.
Its simplicity and convenience will surely appeal to the majority of players, because all data is easily readable, interface elements are in familiar and convenient places, and a convenient log of hits and damage received with a well-read output of numbers in the middle of the screen and a timer displaying the remaining repair complement the functionality. damaged machine module.
To install this damage panel modification, you first need to install the font that comes with it in the archive into the system, then copy the mods folder from it to the folder with modifications in the World of Tanks game client, confirming the replacement of files if necessary.
Screenshots
Installation
Install fonts;
The mods folder is copied to the World of Tanks game folder.