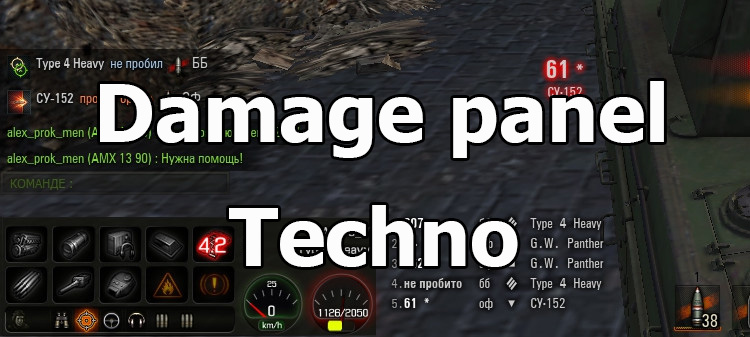 Damage panel Techno for World of Tanks 1.23.0.0
Description
The damage panel presented to your attention this time should be the dream of minimalists and adherents of pure uncluttered functionality. Damage panel Techno for World of Tanks 1.23.0.0 - another product from the talented creators of mods Andre_V and Helpics, in which the panel itself was subject to modification, but the icons of equipment modules and crew members remained unaffected. The panel was reduced in height and stretched in length, thanks to which the image of the tank had no place in it, and the main area was occupied by informative icons arranged in three rows. The speedometer and the scale of strength points were made by the creators in the form of analog devices in green and red. This solution looks very stylish and atmospheric, and besides, quite original and unusual!
Damage panel Techno was not cumbersome, despite its stretch horizontally, it even frees up useful space for a better view. It has also been optimized with a damage log, so that they do not overlap or overlap each other. Icons in this version are perfectly visible, as well as the timers for repairing modules.
Installation of this damage panel is performed according to the standard scheme.
Screenshots


Installation
Folder mods copy the folder World of Tanks.