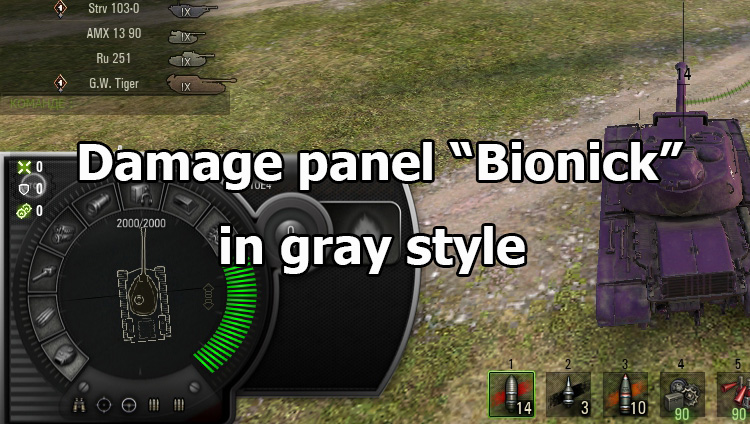 Damage panel "Bionick" in gray style for WOT 1.22.0.2
Description
The damage panel presented to your attention is well-known among lovers of high-quality modifications of the World of Tanks game client. At one time, it gained a sufficient level of popularity to continue work, due to which a series of improved versions was released in co-authorship with other developers of modifications.
This "Bionick" damage panel in the gray style for WOT 1.22.0.2 is executed in a stylish black and silver color scheme and resembles both the color and the shape of the instrument panel of a car or motorcycle. The contrasting green scale of strength of the tank is made in the form of an arc and is very informative in battle, while the modules of the tank are arranged in a semicircle, filling the free space of the round section of the panel. Important indicators, such as the fire icon and the tank speed indicator, are set aside. Under them in red font on a black background the number of damage inflicted by a shot of your equipment lights up, as well as the name of the enemy tank that made this shot.
It is worth noting the versatility and level of optimization of this panel - it works without problems in the current version of the game, is perfectly compatible with other mods, as well as with damage log modifications.
Screenshots
Installation
Install fonts;
Copy the mods folder to the World of Tanks folder.