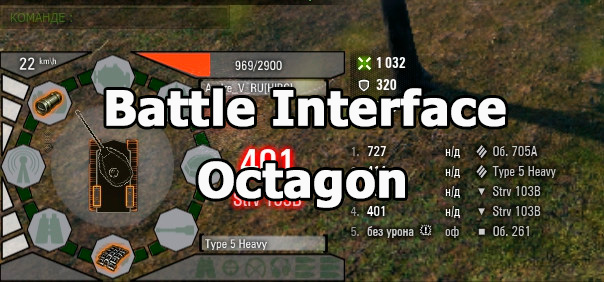 Battle Interface "Octagon" for World of Tanks 1.22.0.2
Description
This time you are presented with a very interesting complex modification of the battle interface for the game World of Tanks called "Octagon." This mod includes a lot of separate independent modifications created by different mod authors and teams. This work can be attributed to quite old modifications and having a base of their fans, because he is already more than five years old. However, the developers also performed work on updating and modernizing the visual part of this complex mod. In particular, at the time, the damage panel was completely redone, as well as the sight used by the mod, presented to the players in a somewhat modernized style.
Please note that for this modification you will also need custom fonts that come with it in the kit. You need to install these fonts in the system before installing the mod itself, and then copy the "mods" folder from the archive to the World of Tanks game client folder, confirming the replacement of files if necessary. At the moment, this modification has been tested for performance in the version of the client of the game WOT 1.22.0.2 and optimized for maximum functionality.
Screenshots
Installation
Install fonts;
Copy the mods folder to the World of Tanks folder.