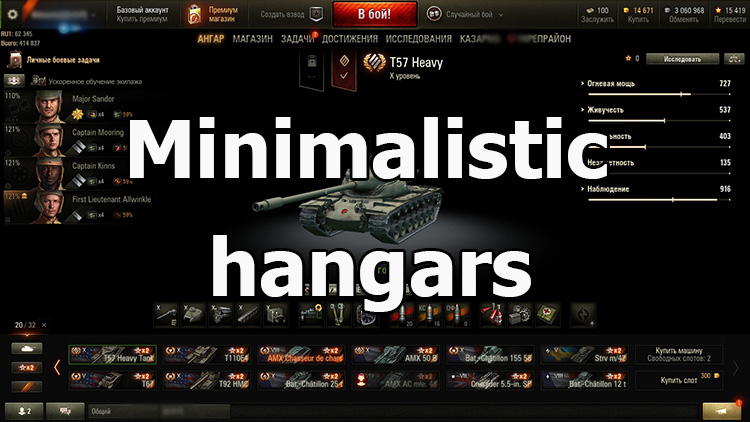 Package of minimalistic hangars for World of Tanks 1.22.0.2
Description
At the moment there is a huge number of the most various hangars, both from official developers of World of Tanks, and from different teams of mododelov.
Presented to your attention a package of minimalist hangars for World of Tanks 1.22.0.2 - consists of the most simple minimalist hangars existing at the moment, decorated in black in the background, where under the searchlight is only one of your tank.
The main advantage of this type of design of the hangars is that they quickly load and very little load the computer. Thus, this mod is an ideal choice for owners of weak PCs, for which the number of frames per second and the speed of the hangar is more important than fine details and colorful design. In addition, it is possible to increase the number of frames per second, not only in the hangar, but also in battle.
At the moment, there are eight variations of minimalistic hangar available:
Standard;
Sand;
Asphalt;
Paving stones;
Pharaon;
A rock;
On the ground;
On the moon.
With the latest update of the hangar, fourteen additional options were added to it with different coatings under the tank - from grass and stones to the surface of the chessboard and others. And to switch them you will have the opportunity directly in the hangar using a special button, but so far this function is not available.
Screenshots
Installation
Copy the mods folder to the World of Tanks folder.