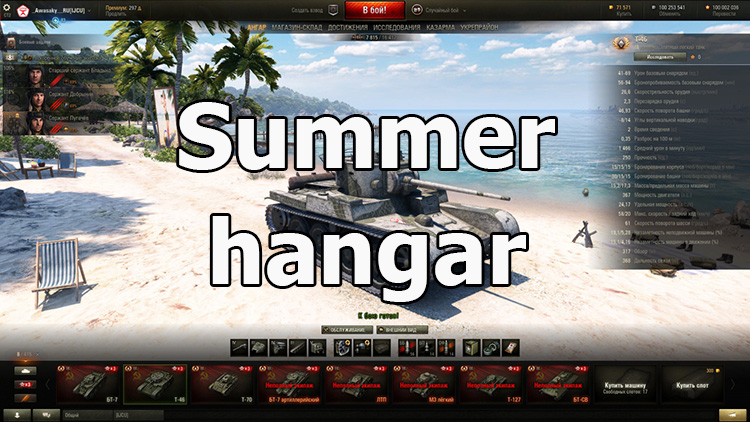 Summer hangar on the beach for World of Tanks 1.22.0.2

Changelogs
Description
What design can be the best for a hangar in hot summer? Of course, as sunny, hot and bright hangar, as the weather outside the window! And the beach atmosphere here is most welcome. And in the winter, such a sunny beach can lift your spirits and warm you in the minutes between fights!
Wargaming developers haven't yet created such gorgeous hangars as a summer hangar on the beach for World of Tanks 1.22.0.2. The detailing of the hangar's background is impressive - your tank will stand on a quiet sandy beach on the shores of an unknown tropical island, and next to it there will be sun loungers, a hut and posters with girls in swimsuits who will surely cheer you up even in the most boring winter evenings!
In addition, in the distance you can see simply magnificent landscapes on land and on water. The tropical island plays with all the colors of green, blooming jungle, and in the distance in the ocean, under the boundless beautiful sky, ships from World of Warships are floating. Well, to complete the picture - singing and the sounds of birds in the background!
Screenshots
Installation
Copy the mods folder to the World of Tanks folder.