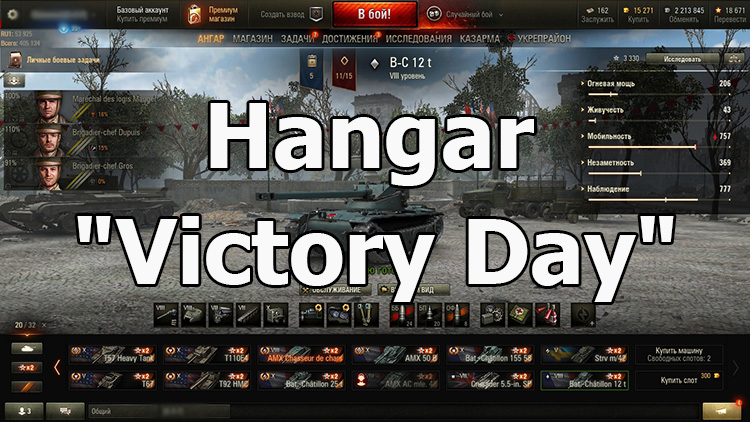 Hangar "Victory Day" (May 9) for World of Tanks 1.2.0.4
Description
It's no secret to anyone that hangars are something that Wargaming's designers always get great, colorful and atmospheric! All official hangars are made with love and worked out in great detail. The Victory Day hangar (May 9) for World of Tanks 1.22.0.2 was created for the period of the Victory Day celebration, but thanks to the models, players had the opportunity to use it at any time, including now, in the current version of the game client World of Tanks.
Unlike the previous Victory Day hangar, the developers decided to make this hangar light, spacious and colorful. The hangar turned out to be very detailed, with a lot of buildings, animated objects and tanks, which are very pleasant to see between fights or waiting for sovzvodnye.
This hangar was also, like the others, tested for operability and adapted for operation in the client version of World of Tanks 1.22.0.2. If you like this hangar, then installing it should not cause you any problems.
Screenshots
Video
Installation
The mods folder from the archive is copied to the World of Tanks folder.