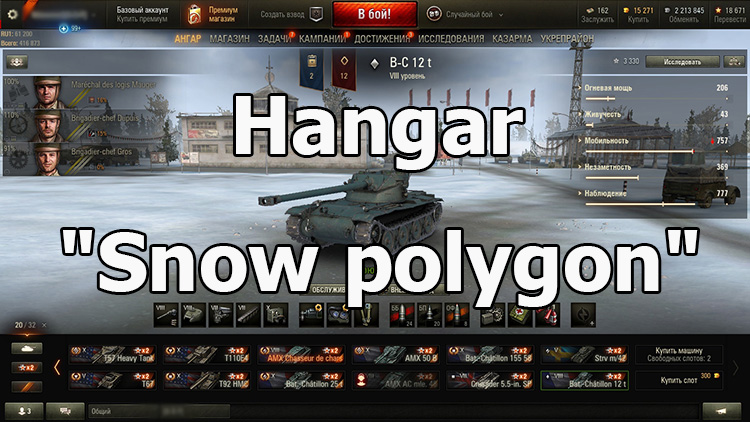 Hangar "Snow polygon" for World of Tanks 1.22.0.2

Description
Your attention is a beautiful hangar in the winter snowy atmosphere, created by February 23, the developers of the game World of Tanks this year. Hangar "Snow polygon" for World of Tanks 1.22.0.2 is a large snow covered area with many tracks from the tracks and wheels, and in the background you can see a lot of equipment, buildings, flags and a beautiful landscape with a winter forest.
Everyone who liked this hangar can enjoy it now at any time of the year, besides, like many others, it was adapted to work in the last patch, because as you know, the lighting system in the hangars has changed in one of the latest updates, which is why the modifications created for previous versions client stopped working.
Such a hangar is perfect not only for February 23, but also for just a winter mood, a new year, or after the new year period. Being in the hangar and examining your equipment, choosing a tank for the next battle will literally plunge into the atmosphere of the February frost on the empty ground swept by the winds.
Screenshots
Installation
Copy the mods folder to the World of Tanks folder.