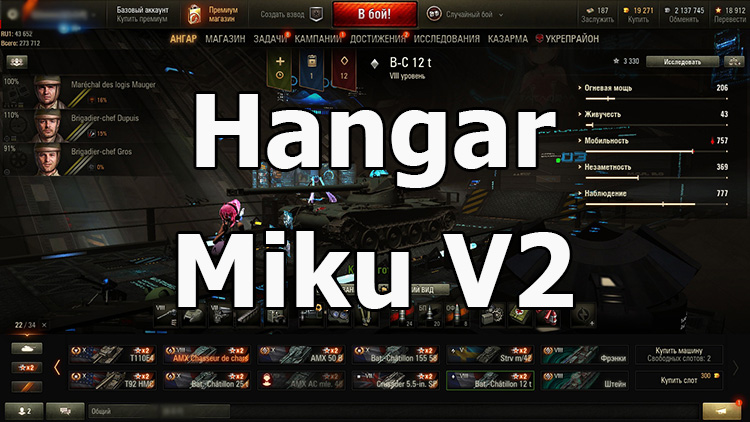 Stylish anime hangar "Miku V2" for World of Tanks 1.23.0.0

Description
Finally, one more high-quality modification of the hangar became available to World of Tanks players! This time, fans of the game will have to rejoice, preferring such a genre of animation as anime. This hangar was created within two months by the Miku player and the name was given the corresponding - Stylish anime hangar "Miku V2" for World of Tanks 1.23.0.0. The first variation of the production hangar can also be found in the archive on our website.
Such an impressive anime hangar in the entire history of World of Tanks has not existed. This is not surprising, since this project was developed specifically as a competitive work for the nomination "The best modification of the game client" in the WGDC.
In the hangar there are two characters - vocaloids Megurin Luka and Hatsune Miku. In fact, the design of the hangar, made in the form of a large three-dimensional scene, is dedicated to this electronic Hutsune Mick. It uses many details, mostly made in the mixed themes of anime and science fiction.
Your tank will be illuminated with a blue fantastic light spotlight, which more than radically transforms the entire appearance of the client in the hangar. Such design can also be to taste and lovers of space simulators, all very atmospheric.
Screenshots
Installation
Copy the mods folder to the World of Tanks folder.