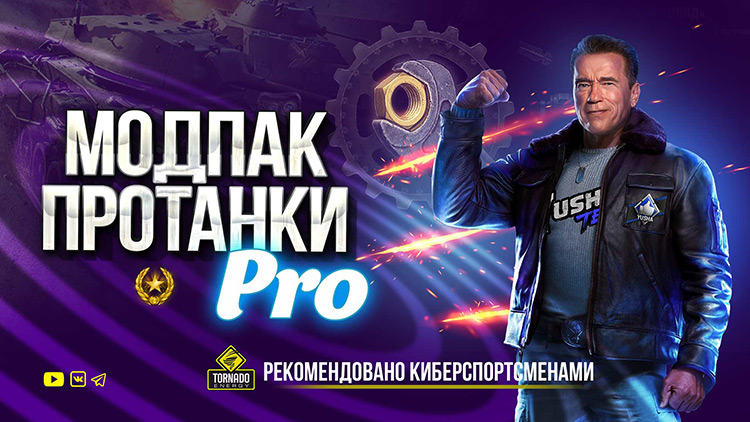 ProTanki Multipack mods for World of Tanks 1.23.0.0 [Yusha]
Changelogs (version 6)
Description
ProTanki Multipack mods for World of Tanks 1.23.0.0 [Yusha] is one of the most popular modpacks for World of Tanks, existing in the Russian segment of the player community. This modpack collected the best modifications from the existing ones, which allow to maximize the interface and increase your efficiency in battle, thanks to the simplification of the gameplay and more informative panels, sound.
Why is multipack mods from ProTanki so popular among players? This modpack is one of the most user-friendly to install, this is especially true for inexperienced computer users. In the installer there is a cleaning of the folder with modifications before installing the new version, protection against improper installation of modifications, as well as the ability to create a backup of your installed mods. This assembly provides and protects the game client files from damage when modified by the Wot Tweaker program.
It pleasantly highlights, among other modpaks, the assembly from ProTanki and convenient previews with detailed descriptions and even audio previews for modifications of sounds. The choice of the user is given a really wide range of modifications, including exclusively exclusive mods and individual heavy modifications that will be downloaded from the Internet only if necessary, if they are noted, facilitating the initial weight of the modpack file.
Of course, here you will also find a selection of well-known sights, like those of Oreshkina, Jove, Murazor, Vspishka, artillery sights, a choice of PROTanki and a sight with a color blindness mode. Several damage panels are available to choose from in different designs, improvements missing to the combat chat and camera functionality - shutdown of recoil after a shot, NoScroll, prohibiting entry and exit from the sniper mode with the mouse wheel, additional server sight, allowing not to grease due to out-of-sync and lag, possibility turn off the display of camouflage on the tanks and change the warning sounds of fire and light.
All the charm of the XVM modifications are also included in this modpack - improved markers above tanks, pointer pointing your barrel, direction of enemy barrels on a mini-map, improved Sixth Sense light, light markers and ping servers.
All the necessary mods for the hangar are present in the assembly - an extended description of skills and abilities, tips, extended statistics for the session with additional data to control its effectiveness, a two- or three-row carousel of tanks, which will be useful for users with a large number of tanks in the hangar, and of course convenient hours with date for control of time spent in game.
Among the features that distinguish multipack from PROTanki from the others is multilingual, allowing to install it also on an English-speaking client.
Video
Installation
Run the installer and follow the prompts.