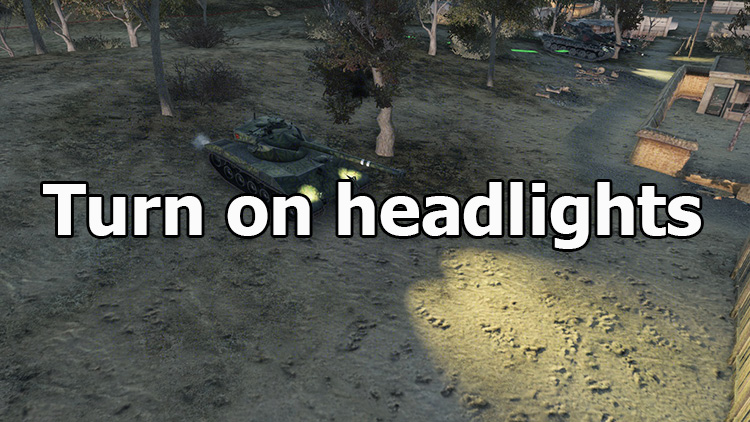 Mod "Turn on headlights" for World of Tanks 1.22.0.2
Description
Mod "Turn on headlights" for World of Tanks 1.22.0.2 is a mod that fulfills the dreams of thousands of tankers around the world. This mod is able to make exactly the variety that everyone has been talking about for so long, but the developers will not dare to please us with this in the version of the game for personal computers. Of course, we are talking about night battles and battles at dusk with headlights on. Even if it is not historical, it allows you to look at the same old maps from a completely different angle.
The headlights turn on and off by pressing the "F12" key on the keyboard. The mod that is presented to you only works on improved graphics and does not change anything on the standard one. Yes, and the light from the headlights will be visible only to you, but probably these unusual sensations from the game are worth it.
During the transition to version 2.0, major changes were made to the mod and it was actually assembled from scratch, the ability to customize it in the hangar was added, and the principle of operation was fundamentally changed. Moreover, the developers of the modification pleased us with other pleasant trifles. For example, besides the mod for switching on the headlights on the tanks, you will also receive four configurations for additions. In the folder with additional configs, you can find and use in your client simply incredible special effects, far from historicity. This is the addition of flashing lights from police cars to the turret of the tank, and the config that adds neon lighting from the sports car under your armored vehicle. In addition, you can turn your tank into a real car! A separate config adds to the equipment not only the included headlights, but also the feet, dimensions, turn signals, and even reversing lamps!
Screenshots
Headlight-on mod configuration files
World of Tanks/mods/configs/PYmods/LampLights.json
World of Tanks/mods/configs/PYmods/LampLights/configs/*.json
Sun Off Configuration File
World of Tanks/mods/configs/PYmods/SunController/mod_SunController.json
Installation
The mods folder is copied to the World of Tanks game folder.