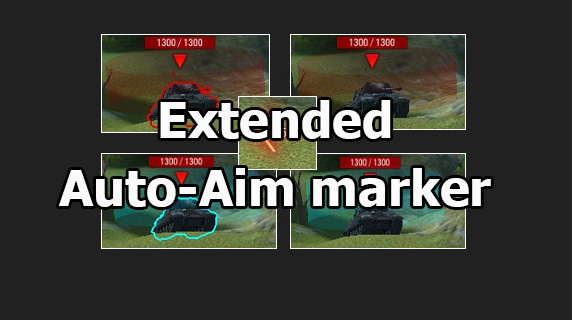 Mod "Extended Auto-Aim marker" for World of Tanks 1.23.0.0
Description
It is difficult to overestimate the benefits of using the Auto-Aim function in World of Tanks. This function has been a full-fledged part of the game for many years and its skillful use in some situations allows experienced players to break the course of battle, actively and merrily rushing into the crowd of the enemy from unexpected directions.
Using the autosight is especially important on fast tanks when you start to turn the car and there is simply no way to accurately aim and keep the barrel pointed at the target. But this amazing invention is not perfect. For example, in case of large-scale collisions, it is quite difficult for you to remember who exactly you captured into the scope. Your effectiveness in combat and damage per minute suffer from this. Mod "Extended Auto-Aim marker" for World of Tanks 1.23.0.0 was created to solve this problem. It allows you to inform you about the active auto-aim in several modes. Of course, the captured tank will be surrounded by a constant contour, but in addition a translucent field will appear around it, and if the captured target disappears from view, the arrow will indicate the direction and distance to it.
In addition, for those who like to stand out, this mod allows you to choose any color for the energy field indicator using the settings inside the hangar.
Installation
The mods folder is copied to the World of Tanks game folder.