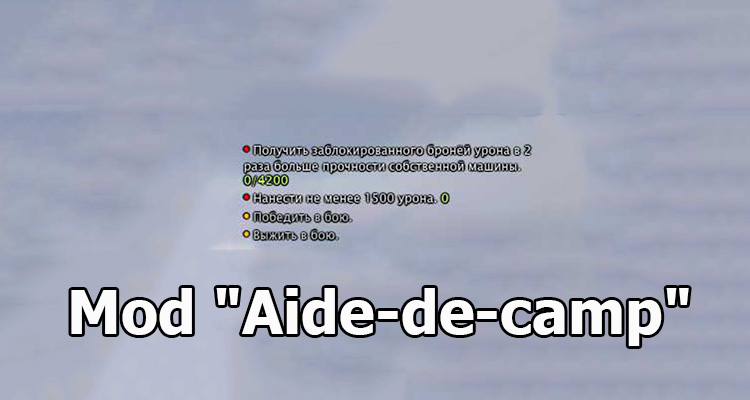 Aide-de-camp: displayed current conditions of Personal Missions WOT 1.22.0.2
Description
The modification from Spoter - mod "Aide-de-camp: displayed this conditions of Personal Missions WOT 1.22.0.2" presented to your attention this time is an extremely useful addition that brings more comfort to the process of performing personal combat missions. After all, how many times did it happen that you did not survive at the crucial moment, considering that you did not do the required amount of damage, or did not have time to take the decisive shot, relaxing ahead of time. Thanks to the Aide-de-camp modification, you will be able to track the progress of the selected combat mission for the selected vehicle right in combat.
The use of this mod makes the process of performing personal combat missions extremely convenient, covering almost all tasks except those that are simply impossible to track due to the lack of necessary information in the battle process. Among such for example hit in the top for damage or experience, tracking the amount of damage caused by your light or calculating the percentage of damage from the total damage caused by your team.
Difficult settings for this modification is not required, therefore, its management is reduced to a minimum. You can control the mod with simple hotkeys. The "Numlock" key hides the text, and the "Numlock + Alt" key combination hides additional tasks from the screen. It is possible to manage the mod settings directly in the hangar.
Installation
The mods folder is copied to the World of Tanks game folder.