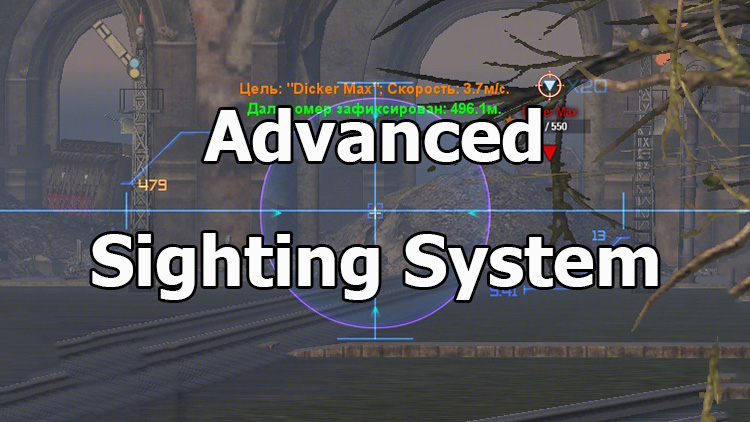 Mod "Advanced Sighting System" for World of Tanks 1.22.0.2
Description
Virtually all players are aware of the problem with aiming high-explosive shells in World of Tanks because of which it is almost impossible to get into a moving tank, given the difficulty with a shot at pre-emption. The Advanced Sighting System mod for World of Tanks 1.22.0.2, introduced to you, was created to correct this problem and is actually an improved version of the World of Tanks Ballistic Calculator modification, allowing you to fix the scope when firing ahead of time against a hill or sky.
Standard game mechanics imply the flight of a high-explosive projectile along a parabolic trajectory from a cannon to the point at which it is aimed. And that is why, in the case of aiming at a point at which the enemy machine does not yet exist, the parabolic trajectory is calculated for the wrong distance, considering the target to be a point against the background, be it the sky in the distance or the landscape against the background. The mod also allows you to block the range or height of the sight, and when activated, the aiming point will move closer to the arrow so that the projectile hits the target.
How to use the mod:
Aim at the desired point.
Use the left Alt key to lock it.
After fixation, you can move the sight to the required place and be calm that the trajectory of the projectile will be maintained.
Sniper sights on artillery is activated using the "E" key.
In order to make a full detailed configuration of this modification, you will need to open in a text editor the file located at:
World of Tanks/mods/configs/GPCracker.AdvancedAimingSystem
Do not be afraid of the extensiveness of the list of settings, since for each item in the file there is also a comment in Russian. You only need to carefully read them and choose the configuration to your liking.
Screenshots
Installation
Copy the mods folder to the World of Tanks folder.