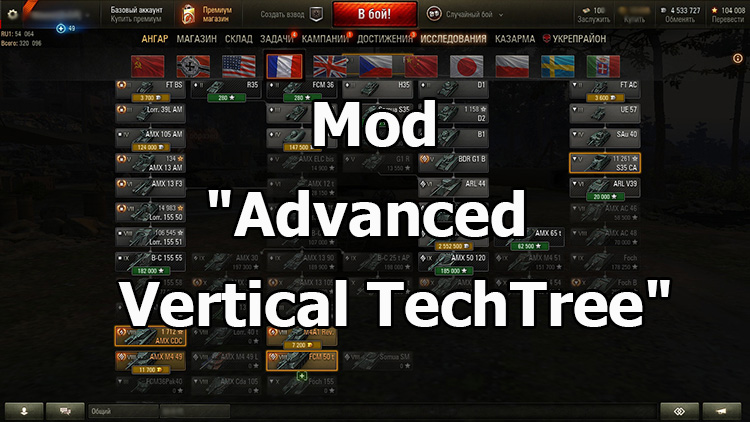 Mod "Advanced Vertical Tech Tree" for World of Tanks 1.22.0.2
Описание
Mod "Advanced Vertical Tech Tree" for World of Tanks 1.22.0.2 is one of the very old modifications of the WoT game client, which is popular both with new players and even among the old-timers of the game even today and is not related to the combat interface, but to the work of the hangar.
Perhaps someone remembers when the research section of technology looked exactly that way without any modifications. This was many years ago, after which Wargaming decided to change it to horizontal for greater convenience. However, this solution didn't appeal to many players and they still, by virtue of their preferences or feelings of nostalgia, install the presented mod into new versions of the client.
In general, it is difficult to answer which view to view Tech Tree is preferable and it's rather a matter of taste, however, the convenient location of the premium equipment in this modification should be noted - it is not confused among the studied, but is taken down by each nation in a separate line. This will allow you to easily and pleasantly choose equipment for purchase or compare premium tanks with each other for price or performance.
Two variants of the hangar are available for the user - with the above-mentioned line of the premium vehicle or without displaying the premium vehicle, to choose from.
Screenshots
Installation
Copy the mods folder to the World of Tanks folder.