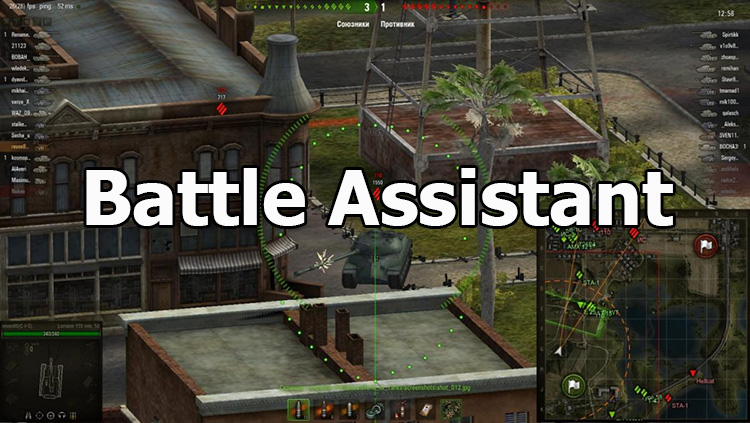 Mod Battle Assistant - SPG sight for World of Tanks 1.23.0.0
Description
The Battle Assistant modification presented to your attention is a rare example of an extremely popular mod that deserved great popularity not only among World of Tanks players, but also highly appreciated by the game developers themselves! It should be noted that this mod was also the winner in the competition of modifications, which was conducted by Wargaming.
The mod "Battle Assistant" - SPG sight for World of Tanks 1.23.0.0 is divided into several useful modules, however, it became the most famous among the gunners, thanks to its mode "SPG of a healthy person". This is the first and most impressive change that this mod brings to the game, allowing you to change the camera angle in artillery mode, which makes it much more comfortable to take aim, which will allow players who have never tried themselves to play artillery to play nicely and effectively.
Among the additional modules of the mod, you should keep in mind the "Fire Spotter" - a module that allows the gun to freeze in the event of the enemy tank disappearing from the map and shoot clearly at the chosen place, avoiding hits in the slopes or the flight of shells beyond the horizon.
Also, the latest version of the modification was adapted to work with the current version of the client of the game World of Tanks, and a version of the modification from Ekspoint was also added.
The transition to a new modified artillery mode sight occurs by pressing the "G" key or by pressing the wheel on the mouse. There is an interesting feature, when you hold down the "Alt" key, the camera is attached to your projectile and you see its entire flight from beginning to end.
Video
Configuration file
After the first launch of the game with the installed modification, a file with settings will appear:
World of Tanks/mods/configs/battle_assistant/mod_battle_assistant.txt
Installation
Copy the mods folder to the World of Tanks folder.
Mod "Battle Assistant" requires activation on the developer's site. The activation is valid for 10 days, after which the activation must be repeated. It is also possible to purchase a paid subscription and receive activation for a longer period.