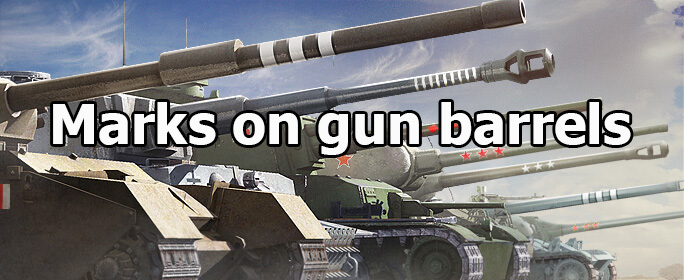 Mod Improved marks on gun barrels for World of Tanks 1.22.0.2
Description
At one time, Wargaming company introduced distinctive marks on the trunks, which can determine the level of ownership of a particular machine from any of the allies. Depending on how much your average damage is compared to the bulk of the players, you get one, two or three marks per barrel. In this case, these marks on the trunks help orient in battle, assessing the skills of the enemy. However, these marks have one clear disadvantage - they are almost impossible to see at a distance, and it's not always convenient at close range, because they are quite small and sometimes their appearance is complicated by the coloring of the tank.
The improved marks on the barrels of guns for World of Tanks 1.12.1.2 presented to your attention are designed to correct this situation, albeit slightly to the detriment of realism. The mod after installation puts on the trunks improved distinctive marks on a larger scale and more brightly painted in three colors, like in a reindeer. The presence of one mark colors the trunk green, two marks blue, in the case of the three marks the trunk will be colored purple. With such a design, it becomes much easier to navigate in allies and opponents, and therefore your effectiveness in battles will certainly rise. The archive has several options to choose from.
After installing this modification, do not forget that the marks in the hangar will not be displayed immediately, but only upon completion of the first battle.
Screenshots

Installation
Copy the mods folder to the World of Tanks folder.