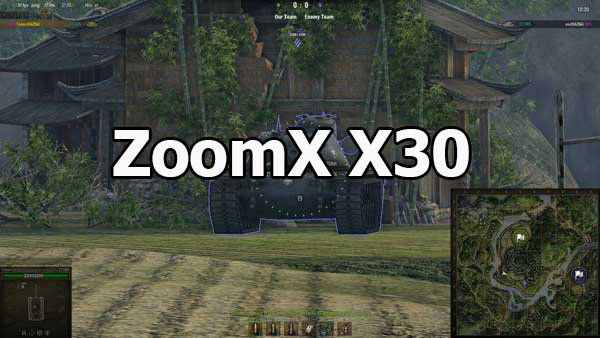 ZoomX X30: increased aim zoom ratio for World of Tanks 1.21.0.0
Description
Effective aiming and shooting is the core of World of Tanks gameplay. Especially for those players who play without premium ammunition or guns with low armor penetration, it is critical to hit each shot through the weakest-armored zones of enemy tanks in order to do maximum damage per battle and to be an effective ally for your team. After a general increase in accuracy in the game in patch 0.8.6, an effective fire began to be fought already from long distances and the standard zoom ratio of x8 was missed by a large part of the players. It was at that time that the ZoomX X30 mod: increased aim zoom ratio for World of Tanks 1.21.0.0 began to be popular and entered into many modpacks and custom assemblies.
At the moment, the user's choice is provided with four variations of this mod with different multiplicity of the sight - two versions of the x30 sight and two versions of the x16. In the fast version you will get 9 and 4 steps of magnification, and in the smooth version - 10 and 5, respectively.
smooth zoom mod х30 (1.6 3 5 8 13 17 21 24 27 30);
fast zoom mod х30 (2 4 8 12 16 20 22 25 30);
smooth zoom mod х16 (2 4 8 12 16);
fast zoom mod х16 (2 4 8 16).
If none of the possible presets does not suit you - you can enter the necessary multiplicity values in the mod configuration file itself, which is located at:
World of Tanks\res_mods\configs\BBMods\Auxilium\sniper.json
For custom installation, the maximum multiplicity of sniper sight positions is 10 and the maximum approximation is x30.
Installation
Copy the res_mods folder to the World of Tanks folder.