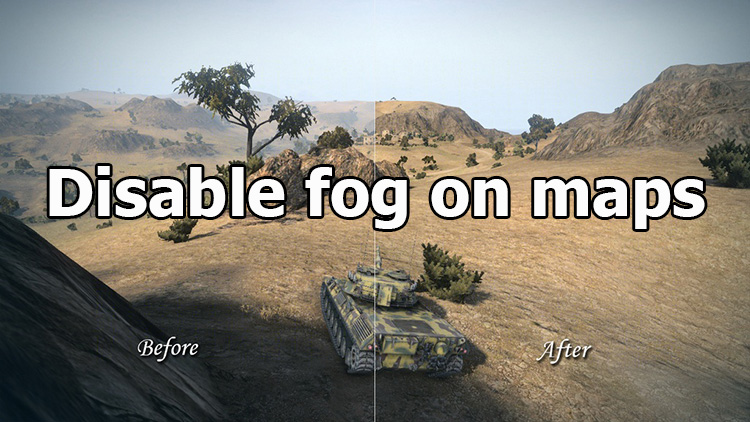 Disable fog on maps and inrease visibility range for WOT 1.22.0.2
Description
The mod disable fog on maps and inrease visibility range for WOT 1.22.0.2 is what many players have known each other for years. A fairly simple modification, but at the same time incredibly useful, although it lowers the level of realism.
Undoubtedly, in the first place, this modification is useful to owners of weak computers, which have a subsidence of the number of frames per second when drawing landscapes in the fog or smoke from burning buildings and enemy tanks. And also this mod is useful for those players who value, first of all, convenience and effectiveness in battle. After all, the smoke will not interfere with seeing the enemy and aiming, and therefore the chances of winning will increase!
In addition, the mod also slightly increases the brightness to improve visibility. As a result, players using this modification receive not only an increase in the number of frames per second, especially on older computers, but also an improvement in the visibility, which sometimes plays a decisive role in our game! The presence of fog and smoke is particularly noticeable when shooting at a distance.
To install this modification, you need to carry out a standard procedure - download the archive, unpack it, and then copy the mods folder from it to the folder with your client of the Wordl of Tanks game of the current version.
Installation
Copy the mods folder to the World of Tanks folder.