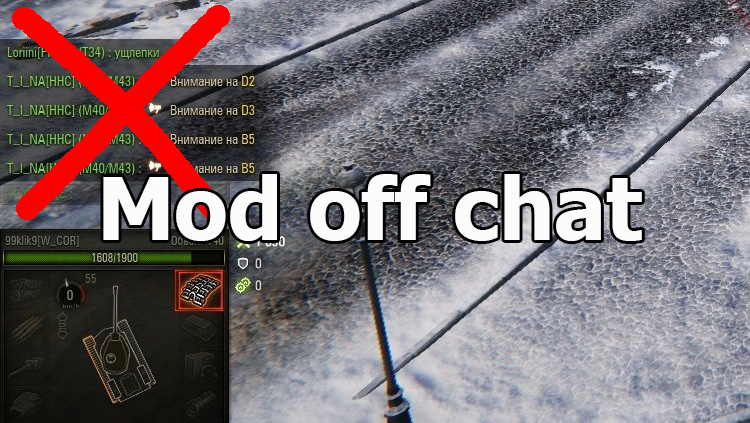 Mod off chat in battle for World of Tanks 1.22.0.2
Description
As you know, chat in online games is a very dubious function, in which you rarely find something positive, useful or uplifting. In most cases, in the first place in such chat rooms, more toxic representatives of the gaming community, who enjoy conflicts and verbal exchanges, rejoice at their impunity, pay attention to themselves.
Therefore, the authors of the mods created a modification that disables the chat in the game, or rather filters it depending on the categories you choose. Mod off chat in battle for World of Tanks 1.22.0.2 can hide both regular messages from users and command messages, messages about the destruction of equipment, as well as allies clicking on the squares on the mini-map. In addition, if you wish, you have the ability to also turn off the output of recharge commands and short messages from the allies. In this case, you limit the level of interaction with allies as much as possible.
The latest version of the modification was tested for stability and adapted to work in the client version of the game World of Tanks 1.22.0.2.
Settings file
World of Tanks/mods/configs/ekspoint/mod_hide_message_battle.json
All settings in the file have handy hints. To enable or disable a filter, use the values true and false, respectively.
Installation
Copy mods folder to World of Tanks folder