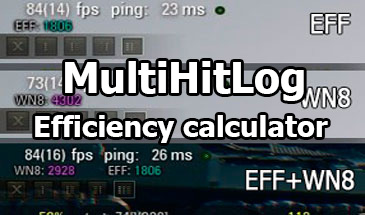 MultiHitLog: Efficiency calculator in battle [WN8, EFF] World of Tanks 1.23.0.0
Changelogs
Description
Sooner or later, most players come to the moment when most of the research branches of interest have been pumped, a dozen or two favorite tanks are in the hangar and in the game you want to find another motivation, another goal to achieve. One of these goals for many players is to increase their skill and efficiency rating, which reflects how well the player plays in combat, relative to the others. And of course everyone wants to know their level of efficiency as quickly as possible. Previously, there was an opportunity to get acquainted with this only in the post-battle statistics in the hangar, to evaluate the statistics for the session. However, with the "MultiHitLog: Efficiency calculator in battle [WN8, EFF] World of Tanks 1.23.0.0" mod, you have the opportunity to evaluate the already full of efficiency levels right in the battle and orient yourself, should you chase another opponent or enough.
You can choose from several variations of the mod - in a simple one, your EFF and WN8 efficiency rating and damage are displayed on the screen, and the average and last damage are also displayed in the extended one. Also among the options to choose is provided a minimalist option and a version of the calculator from NooBool, with icons of signs of classiness.
Among the additional indicators of the calculator there is another important one: the average damage to the server on a specific tank, displayed as a negative number until you exceed this figure.
Screenshots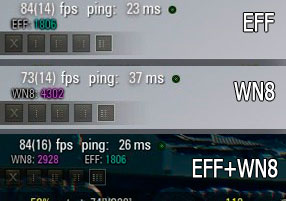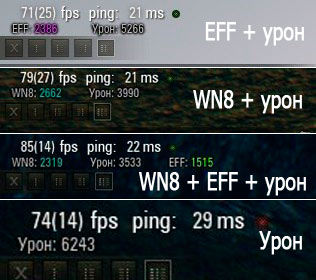 Installation
Copy the mods folder to the World of Tanks folder.