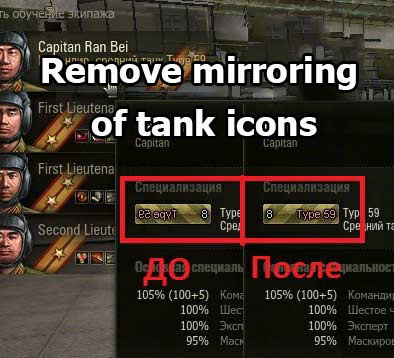 Remove mirroring of tank icons for World of Tanks 1.23.0.0 [without XVM]
Description
If you have ever installed XVM or non-standard icons of team equipment in the combat interface, you are probably familiar with the problem of mirroring icons. Since initially the icons were created without inscriptions, this feature was more likely a design element, for the complete symmetry of the interface. However, in the icons with inscriptions there was a problem of mirroring, because one column is always reflected and the names of tanks become not only unreadable, but also visually unpleasant.
Thanks to the modification "Remove Mirroring Tank Icons for World of Tanks 1.23.0.0" presented to your attention, you have the opportunity to remove this mirroring without resorting to the XVM functionality. With the help of this mod you have the opportunity to remove the specularity of the icons in the hangar, in battle and on the battle loading screen.
Screenshots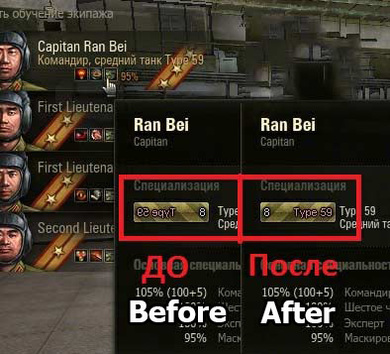 How to remove mirroring of icons in XVM?
In order to remove the mirroring of the icons in the XVM modification, you will need to open the configuration file, which is located at the address inside the folder of your World of Tanks game client:
World of Tanks/res_mods/xvm/configs/battle.xc
It is necessary to find the line "mirroredVehicleIcons": true in it and replace it with "mirroredVehicleIcons": false. If you do not use XVM, then you will need to install this mod.
Installation
Copy the mods folder to the World of Tanks folder.