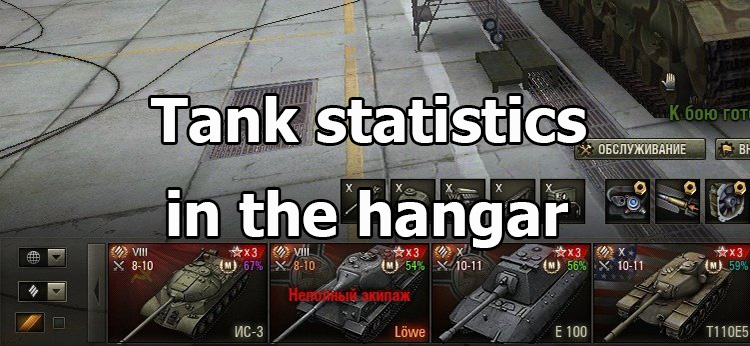 Statistics on the tank in the hangar for World of Tanks 1.19.1.0 [without XVM]
Description
The XVM package is distinguished by its insane functionality and the number of modifications that it makes to the World of Tanks game client, but it is also cumbersome, which also causes a drop in performance, for example, on low-end computers. However, if you need only a certain part of it - at the moment you can install separately the mod statistics for the tank in the hangar for World of Tanks 1.19.1.0 [without XVM], which does not cause such drawdowns on FPS.
When installing this extended tank carousel with statistics displayed, you can track the progress of marks on the tank trunks, average damage, the number of battles conducted and the skill level icon on the tank. You can configure this hangar modification for yourself by editing the config, which is located at the address inside the client's folder of the World of Tanks game:
World of Tanks/mods/configs/polarfox/hangarTools/
World of Tanks/mods/configs/ekspoint/mod_vehicleStatsXte.json
Also, this modification was fully adapted for functioning in the current version of the World of Tanks game client and the mod's performance was corrected after fixing several minor errors.
However, before installing this mod, keep in mind that it will not work if the client already has the XVM package installed!
Screenshots
Installation
Copy the mods folder to the World of Tanks folder.