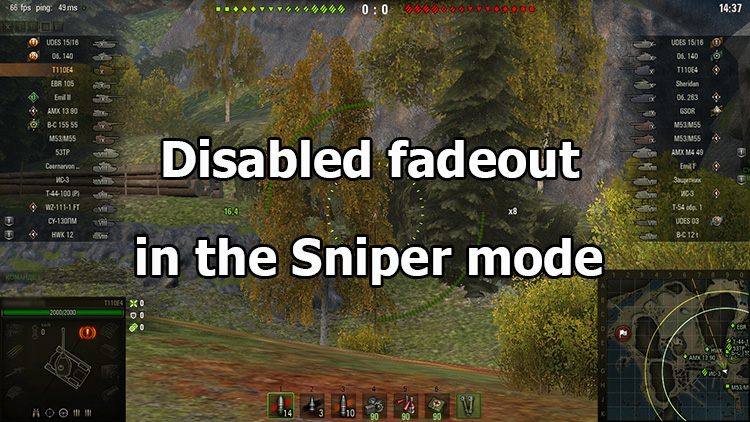 Disabled fadeout in the Sniper mode for World of Tanks 1.22.0.2
Description
Modifications that remove darkened corners in sniper mode in the game World of Tanks have been popular among players for quite some time. Already several years ago, players noticed an advantage when playing without simulating lenses with darkened angles when aiming in sniper mode. After all, the radius of the view is narrowed and sometimes you can miss an important point that falls right into this darkened corner of the screen. Therefore, many World of Tanks players have long made the choice in favor of convenience, albeit slightly to the detriment of the atmosphere of the battle.
After the release of each update, one of the first questions for the players becomes exactly how to remove the eclipse in sniper mode. This question is so popular that Wargaming even made a similar feature in the settings of the game client, but it still doesn't work the way many would like - a slight eclipse still remains. By installing the "Disabled fadeout in the Sniper mode for World of Tanks 1.22.0.2" mod, you will get a completely clean picture without special effects in the sniper scope.
In the latest version of the modification, it was adapted to work with the current version of the client of the World of Tanks game, and a new design variation from night_dragon_on was added to it.
Screenshots
Installation
Copy the mods folder to the World of Tanks folder.