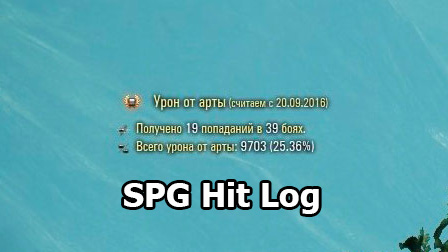 SPG Hit Log [Arty Log Mod] for World of Tanks 1.22.0.2
Description
Despite the name clearly devoted to artillery, this modification is intended just for the players acting as its victims, and not for the avid artillery themselves. As the name of the mod itself says, this is a modification that allows you to keep a log of the damage received from artillery in battle.
You can't call SPG Hit Log [Arty Log Mod] for World of Tanks 1.22.0.2 the most necessary, but its information content will allow you to directly control the amount of damage caused by artillery to you in battle, and therefore collect statistics for any of your goals. In addition, the mod collects data not only for a fight or session, but also saves it after exiting the game, continuing to collect damage statistics for a week, a month or even a year, also displaying the date from which damage calculation began. In addition, the modification calculates the number of hits received, the number of battles and the ratio of damage from spg to the total damage received.
By default, the modification records only in random battles. However, the mod's configuration file is editable and the user has the ability to edit even the text displayed on the screen and its color.
Also, players have the opportunity to clear the mod's cache, thereby resetting statistics by pressing the F10 key.
Configuration file
World of Tanks/mods/configs/promod/artylog/modTemplate.json.modSettings.json
Screenshots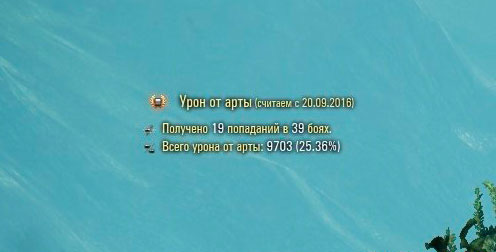 Installation
The mods folder is copied to the World of Tanks game folder.