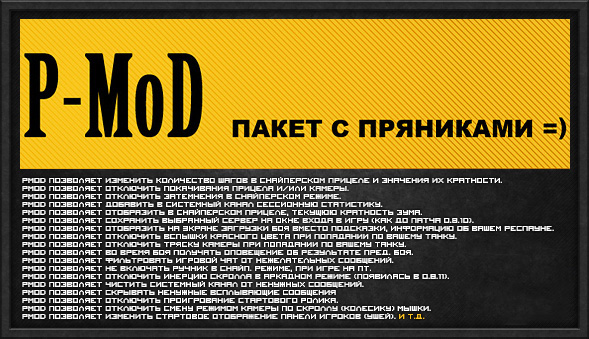 Mod "PMOD" for World of Tanks 1.21.0.0 [Download]
Description
The "PMOD" mod for World of Tanks 1.21.0.0 is one of the complex mods known to many players, bringing many positive changes to the game that improve both the gameplay and the combat interface. Many modifications are based on the use of this particular package. Using P-Mod will allow you to fine-tune a variety of nuances in the combat interface.
P-MoD allows you to edit almost anything to your liking. It allows access to the full setting of the commander's camera, disabling camera rocking and retracting the sight from the interface, adjusting the sensitivity of the approximation, using the NoScroll mode, which prohibits leaving the sniper mode with the scroll wheel, as well as full adjustment of the sniper mode itself, magnification and zoom step. In addition, there are undoubtedly such convenient bonuses as keeping statistics for a gaming session and a day, chat filter, increasing the light bulb display time, saving the last server used.
All this, as well as many other things, is very conveniently and beautifully assembled and arranged in a configuration file with detailed explanations and comments with the standard configuration and with a detailed config with the extended configuration. Not all modes are initially included - they will need to be enabled manually.
Settings
World of Tanks/mods/configs/pmod/
The single-file config is configured in the _single.json file.
To enable the module you need, replace false with true.
Installation
Copy the mods folder to the World of Tanks folder.