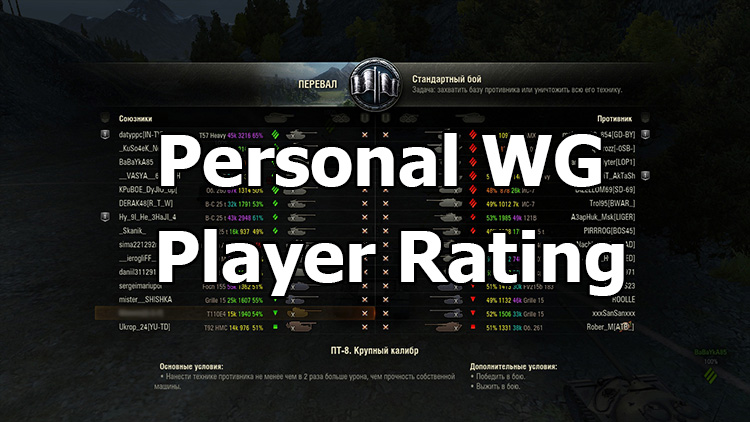 Personal WG Player Rating for World of Tanks 1.22.0.2
Description
In the process of how the complex XVM mode grew and expanded the range of opportunities offered, the level of its load on the computer increased and its demands on the computer resources for a comfortable game grew. That is why with each new update, an increasing number of players have to abandon its rich functionality in favor of less demanding modifications to the system. One of these modifications is the Personal WG Player Rating without XVM for World of Tanks 1.22.0.2. It does not interact with XVM, but uses WG Api to obtain data about players, using the WG rating as a basis.
The user can choose from three options for displaying the mod:
Efficiency rating + winning percentage + number of battles.
WGR rating without displaying a chance to win.
A full rating, with a chance of winning displayed at the time of loading the battle, a dynamic chance of winning a battle, taking into account many important factors in their calculations, as well as displaying the number of player fights, winning percentages, WG rating by pressing Tab.
Screenshots
Mod setting
Path to the configuration file of the mods settings:
World of Tanks/mods/configs/mod_battle_stats.json
Installation
Copy the mods folder to the World of Tanks folder.
Configs must be installed on top of the mod in the mods folder, all also confirming the replacement of files.