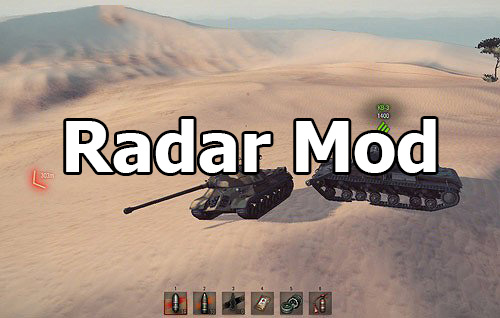 "Radar": indicator of range to the closest enemy for WOT 1.23.0.0
Description
"Radar": the indicator for the range of the enemy for WOT 1.23.0.0 is a mod whose importance cannot be overestimated. Using indicators that notify you of the distance to the nearest machine of an enemy team allows you to better assess the situation in the battle, respond faster and better plan your actions.
In the basic version of the mod, three colors of indicator arrows are used:
green - shows the direction to the enemy, who can not shoot at you
red - means that you are in the zone of the enemy's direct chamber of the enemy and you risk saying goodbye to some of the machine's strength points
violet - the enemy tank is already aiming at you and you should think about a better position to repel a projectile or a good cover
Also recently, a minimalist version of the modification has been added, in which the purple direction indicator of the nearest enemy vehicle is displayed only in those cases when the tank is in direct view and pointed by an instrument in your direction. Due to this, the combat interface is not overloaded with unnecessary indicators, when there is no special need for them.
In the archive for you are available two options for modification. The first is the "Radar" mod from Spoter, the second is the minimalist monochrome indicator of the direction of the enemy. Installing this mod is nowhere easier - all you have to do is unzip the mods folder to the World of Tanks game client folder, confirming that files are replaced if necessary.
Screenshots
Installation
Folder mods placed in the folder with the game World of Tanks.