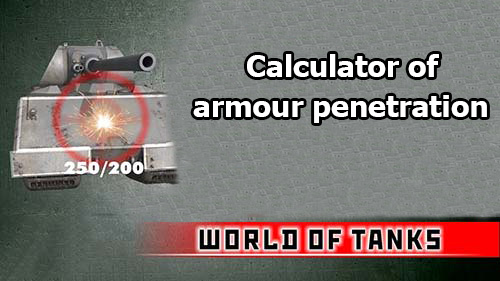 Calculator of armour penetration for World of Tanks 1.21.0.0
Description
The mod Calculator of armored penetration for World of Tanks 1.21.0.0 presented to your attention is perfect not only for beginners, but also for good players, as it not only helps in combat, but also hones skills and learns machine vulnerabilities from different angles. Unlike the base sight built into the client's game, this calculator takes into account not only the thickness of the armor at the selected point, but also the angle of entry of the projectile.
It is almost impossible to overestimate the degree of importance and effectiveness of using an armor calculator in combat. This modification in combat provides the player with complete information about whether the projectile will pierce the armor in the zone where you are aiming at a certain angle of entry. This gives a considerable advantage in the battle to players who do not use such mods, since the percentage of penetrations you noticeably increases due to confidence in your actions.
This mod is completely independent and does not require installation of Pmod, but at the same time it is perfectly combined with it without any conflicts.
Screenshots
Settings file
World of Tanks\res_mods\1.21.0.0\scripts\client\gui\mods\mod_reducedArmor.json
Installation
Copy the mods folder to the World of Tanks folder.