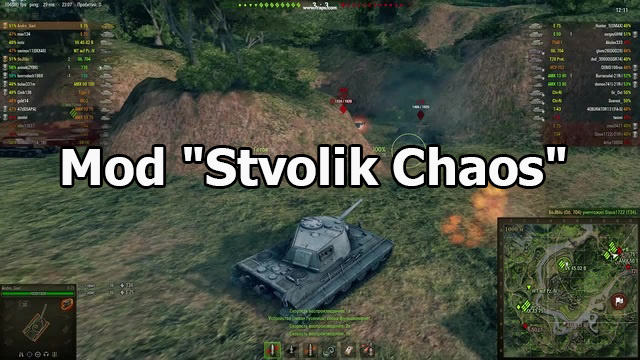 Mod "Stvolik Chaos" - increase shooting accuracy for WOT 1.23.0.0
Description
Most of the players noticed the need for server sights and the ineffectiveness of using only the client sights in the game, having experienced repeatedly shots to the side or an underexplored gun in those moments when the client sights showed full readiness. Knowledge of this subtlety of our game significantly increases the efficiency of the game for a player of any level who wants to play at a good level.
The main advantage of the presented Mod "Stvolik Chaos" - increasing the accuracy of shooting for World of Tanks 1.23.0.0 before the standard server sights, included in the basic client of the game World of Tanks - the absence of out of sync. If you just use a server-side sight, shots are possible to aim the sight in the client, without waiting for the server to return. However, in the case of the Stvolik Chaos, the turret and the guns will be rotated in the game based on server data, so we will combine two sights in one interface, which completely excludes the possibility of forgetting or mixing up the sights and making a mistake at a critical and crucial moment. As a payment for this convenience, you will have to accept and get used to the easy twitching of the weapon.
Installation
Copy the mods folder to the World of Tanks folder.
And of course, do not forget to turn on the "Use server sights" checkbox in the game settings for this mod to work!