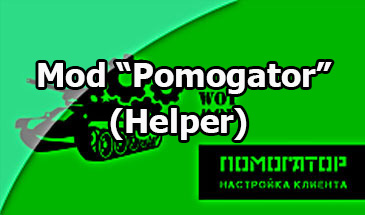 Mod «Pomogator» (Helper) for World of Tanks 1.22.0.2
Description
Many players of World of Tanks are familiar with the P-mod mod, which allows editing the combat interface. And the Mod "Pomogator" (Helper) for World of Tanks 1.22.0.2 presented to your attention this time is to some extent an alternative and competitor to P-mod, being a complete solution for modifying the interface and combining many changes in one archive. At the same time, it weighs very little and will be easy to learn and understand, not only for experienced players, but even for beginners.
For example, this complex includes such modifications as allowing to remember the last server, automatically transfer equipment from one tank to another, replant the crew and control the camera, as well as increase the level of frames per second by disabling unnecessary special effects and increasing comfort by turning off interfering effects and shaking. And also in the latest update, the ability to play on any World of Tanks cluster was introduced using one game client.
Installation
To install this mod - just copy the res_mods folder to the client folder of the game World of Tanks.
This modification is done using a text editor in the file at:
World of Tanks/res_mods/configs/BBMods/Auxilium.json