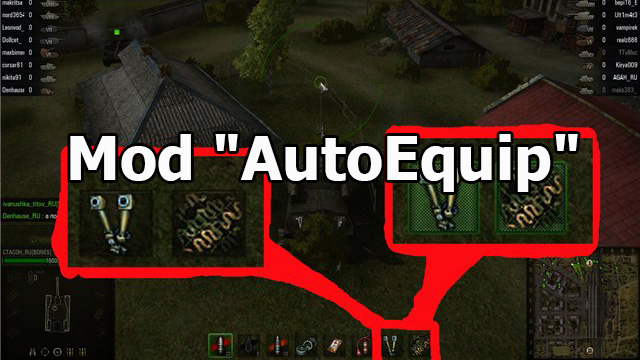 Mod "Auto Equip" - automatic installation of equipment for WOT 1.23.0.0
Description
The "Auto Equip" mod provided for your attention - the automatic installation of equipment for WOT 1.23.0.0 is, at first glance, small, but very pleasant to use and the players who have played many battles in our game will first understand its importance. Surely all experienced players with an extensive range of tanks in the hangar know how tedious it is to install stereo tubes and nets on equipment each time and how unpleasant it is to forget to do it. This mod perfectly solves this problem!
You can choose from two types of this mod. How to choose - choose yourself your own taste ..
First option. He remembers all the modules installed on the machine and installs them with each choice of tank in the hangar.
The second option. In this case, the stereo tube, the grid and the tool box are automatically installed on the tank before going into battle after actually pressing the "To Battle" or "Ready" button in the case of playing platoon.
Installation
The installation method of this mod is similar to many others - you need to unpack the scripts folder from the archive into the World of Tanks/res_mods/1.23.0.0 / folder within the game client.
After that, for the modification to work it is required to conduct a short setup The steps for setting it are described below.
Step-by-step instruction
Select the desired tank;
Install on it all the desired modules;
Without removing them, switch to the next armored vehicle and install the modules already removed by the mod automatically and at this point;
Go through all the necessary machines, repeating the above points.
Remember! In case of manual removal of the modules, the mod will remove them from the config.