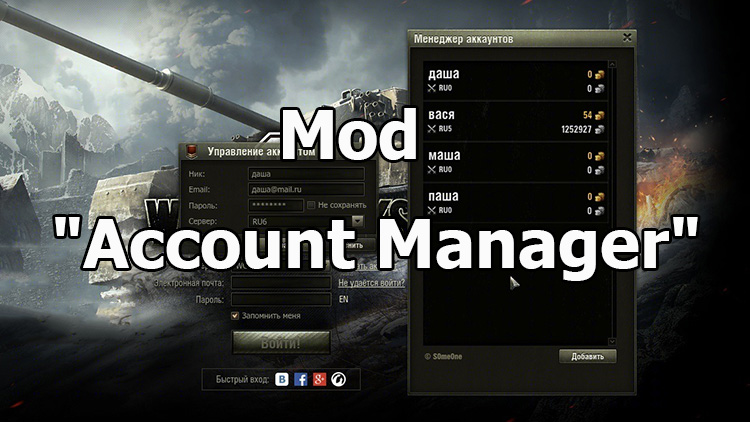 Mod "Account Manager" for World of Tanks 1.22.0.2
Description
The "Account Manager" mod for World of Tanks 1.22.0.2 introduced to your attention at one time appeared in Jove modpacks and was quite popular, but since its support has ceased, it has been undeservedly forgotten. And only recently, this wonderful convenient mod has been restored and optimized to work with the current version of the client by the famous creator of the mods Spoter.
This manager is created for those computers that are played by several people - relatives or friends. In the manager, you can save not only logins and passwords for quick access to your accounts, but also keep track of which account you are playing more, as well as the current number of credits and gold on each account.
Managing the game accounts manager of World of Tanks is done using hotkeys:
CTRL + B - call the main window of account manager;
CTRL + click on the record in the window - opens the window to modify the saved account;
ALT + click on the record in the window - delete account;
Please note that if nothing happens when you press the keys, you should simply close the manager window and reopen it.
This modification is provided in an unencrypted form and is available for editing. So anyone can look at its source code and get acquainted with it in detail, thereby checking the security of the data of their game accounts.
Installation
To install this modification, you need to copy the mods folder to the World of Tanks game client folder, confirming the replacement of files if necessary.