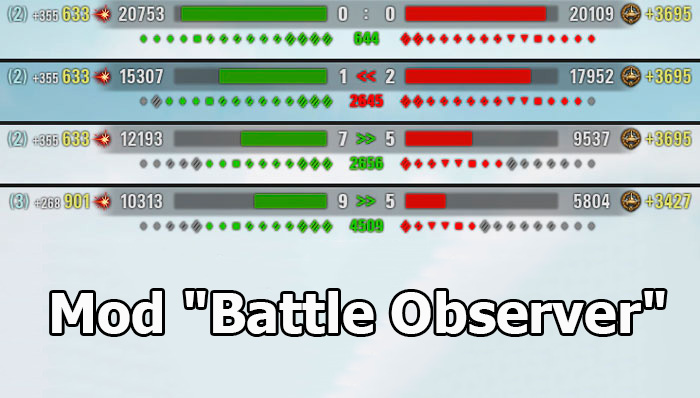 Mod "Battle Observer" - Team Health Bar for WOT 1.22.0.2
Changelogs
Description
Most of the audience of World of Tanks players has long been familiar in one form or another with modifications that replace and enhance the interface of the HP teams panel. And now you are presented with another variation of this mod with a modified panel of general HP teams.

The Mod "Battle Observer" - Team Health Bar for WOT 1.22.0.2 completely replaces the basic team tab panel and is a much more useful and informative interface element in combat. The level of strength points of each team will be displayed in the form of colored bars, decreasing in the process of taking damage. Also, for clarity, the level of strength of the team is displayed in a numeric format. In addition, for those who like minimalism, an alternative simplified version of the panel with a transparent background was created.
The new version of the total HP of teams panel has been improved and added new features. Now it also includes the amount of damage you inflicted on your opponent for the battle, the percentage of the total damage done by the team, and the number of penetrations — the functions for which XVM previously had to be used. In addition, the new version of the mod can show the hit point of each remaining tank in combat by pressing the Ctrl key. This feature is disabled by default in the mode and in order to enable it open the settings file, find the line "showRemainHalth" and replace the value false to true.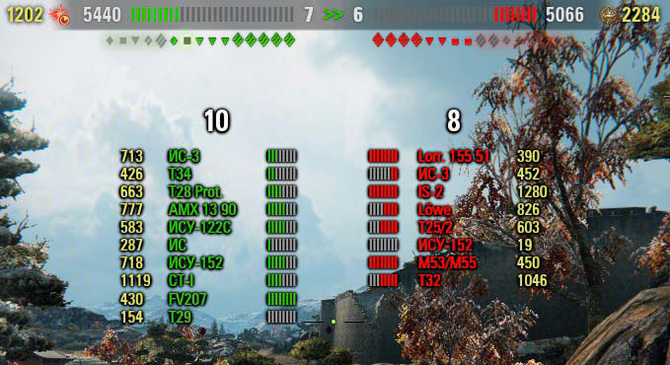 Video
Installation
To install this modification, you will need to copy the mods folder from the archive to the World of Tanks game client folder, replacing all existing files.
Modification configuration file can be found at:
World of Tanks/mods/configs/mod_battle_observer/