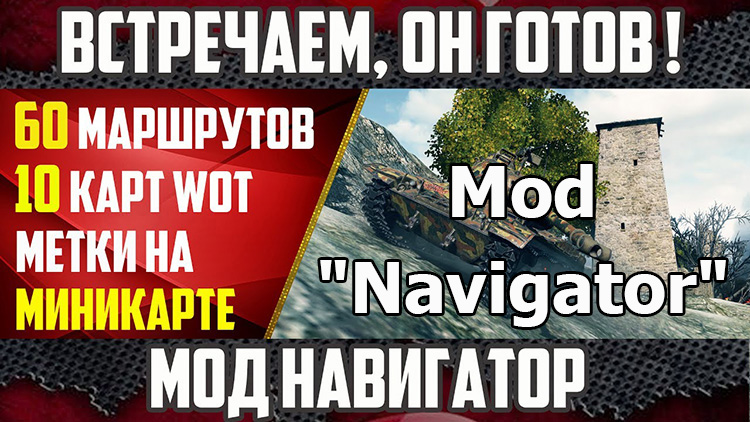 Mod "Navigator" for World of Tanks 0.9.22.0.1
Description
The Mod "Navigator" for World of Tanks 0.9.22.0.1, presented to your attention on this page, is unique and practically has no competitors even with such an extensive range of modifications in the World of Tanks community. And all because it was created to display the best routes to advantageous and still existing in our game, replanting and steep positions on the seemingly insurmountable mountains. This modification will provide the most convenient way of arrival to the position, which greatly simplifies the life of the player and allows you to avoid mistakes and critical failures, as well as delays that may affect the outcome of the battle not in favor of your team. This mod is something like your personal Maracas.
Its interface is simple and clear - it adds bright trajectories to all maps, divided into three colors, depending on their complexity. Greens are lightweight rides that any heavy tank can handle. Rides marked in yellow are not suitable for every technique and it is not always worth trying to conquer them. Red means above all secret pitching, which only light, fast tanks can climb, and even then the help of allies will sometimes be needed.
All these routes will be displayed directly on the landscape of maps during the battle, on a mini-map and of course in the training room. Moreover, there are additional tips - the gear on the ground means that you should drive in front or backwards, and the figure put inside the circle means the number of tank assistants to overcome the obstacle.
Video
Installation
Folder mods placed in the game folder World of Tanks.