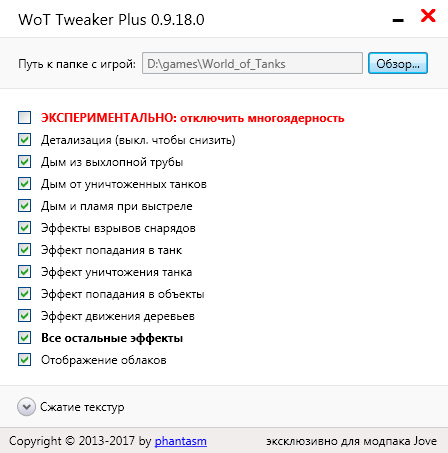 WOT Tweaker Plus for World of Tanks 1.23.0.0 [Download]
Changelogs
Description
WOT Tweaker Plus for World of Tanks 1.23.0.0 is an excellent program for increasing the number of frames per second by fine-tuning the characteristics that are not available in the settings of the game itself. This program is needed in fact to the overwhelming majority of World of Tanks players anyway, since one half of the characteristics of computers do not allow to fully play with high FPS, and the other, many special effects in the game make it difficult to fully realize their skill level.
The program interface is simple and clear to everyone, and the setting is done by setting or unchecking. The list includes almost all possible effects and animations that affect the performance of the computer and cause a drop in the frame rate per second. This is the smoke from the exhaust, shot and destroyed tanks (which by the way prevents the enemy from building up behind the skeletons of the destroyed equipment), and the effects of ricochets, shell strikes and destruction of objects raising clouds of dust, which have a decent effect on the frame rate, and the movement of trees, flying birds and clouds in the sky, which are also drawing their share of the performance towards themselves, but the absence of which is almost not noticeable in a private battle. Yes, and it is worth noting that switching off as well as switching on happens quite quickly, so you will always have the opportunity to return all or part of the effects to their place, if without them the game seems visually too boring. For medium or high-end computer characteristics, WOT Tweaker Plus will be equally useful, because FPS never happens a lot, and no one forces you to turn off all the effects at once — you can find a middle ground.
In addition, for the most budget complete sets of machines provided an additional way out of the situation, which increases the number of frames per second - texture compression. Undoubtedly, this method takes time to apply the settings and after each update the textures will again be replaced with full ones. Yes, and the surface of the game will become more zamylennyh, but in this way the lower threshold of system requirements can be lowered so that on almost any extremely weak computer, FPS figures will not fall below playable values.
Installation
Download file from our site;
Run the WoTTweakerPlus.1.23.0.exe file and specify the path to the game folder;
In the program window, uncheck the checkboxes opposite the effects you want to turn off. In the window below there is a button for compressing textures.