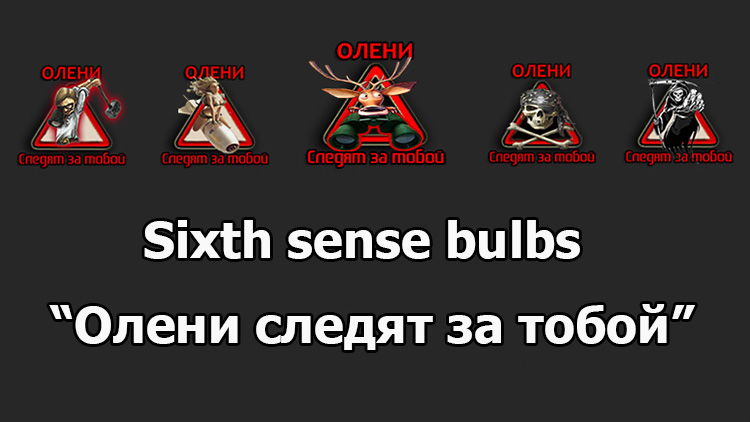 Sixth sense bulbs "Олени следят за тобой" for WOT 1.23.0.0
Description
Light bulbs for the "Sixth Sense" skill indicator are probably one of the most fun and creative areas for modders. There are hundreds or even thousands of icons for the "light bulb", both in the Russian-speaking community and in the western ones. This is a festive themed sets, and children's variations, and more serious or minimalist. Special attention should be paid to humorous, humorous and just frivolous sets with funny and cheering inscriptions. In this category there is an even greater variety of sets.
Sixth sense bulbs "Олени следят за тобой" for WOT 1.23.0.0 - these are five different pictures made in the form of a bright warning sign with the inscription "Олени следят за тобой" and various cheerful and encouraging illustrations for every taste. The use of modified options not only refreshes your view of the game, but also allows you to better respond to the triggering of the lamp, because these icons are much brighter and more colorful than standard World of Tanks lamps.
Screenshots

Installation
Copy the mods folder to the World of Tanks folder.